Easter at the Market
Published 15 March 2021

The Village Market is your one-stop-shop this Easter
Whether it's fresh seafood, Easter eggs or hot cross buns, the Village Market is your one-stop-shop for everything this Easter. We will be open an additional day on Thursday 1 April (from 6am!) for our customers to stock up for the holiday as we are closed on Good Friday. There will also be free live music and lots of fun for the kids!
Can't make it to the Market? Shop with SMM Direct and we'll come to you. We'll be delivering across Melbourne and regional Victoria all weekend (including Good Friday), so you continue to support your favourite traders and receive the freshest produce this Easter.
Read on to find out about just some of the special offerings from our traders this Easter.
Chocolate
Atypic Chocolate - Aisle D, Stall 171
As the name suggests Atypic is not your average chocolatier. This Easter their amazing creations include (photo above) Baby Sheep ($36.95) Mrs Rabbit (33.99) Mr Chicken (39.99) and Magic Rabbit ($45.99). There's also a chicken family ($24.00), a Mont Blanc egg (26.99) and Full Bloom egg ($29.99). And the best bit? You can watch the expert chocolatiers making the range in store!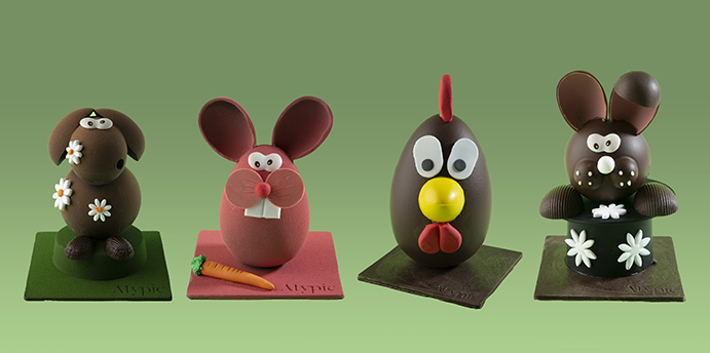 Rita's Coffee & Nuts - Deli Aisle, Stall 18
Chocolate and sweets galore perfect for basket filling during Easter egg hunting plus Italian Easter cakes. All customers get to go in the draw for a 3 kilogram Italian Easter Cake worth $250.
Sweets on South - Aisle C, Stall 205
A wide range of Easter chocolate and sweets from around the world.
The South Melbourne Market Grocer - Coventry Street, Stall 43
Visit Roy and the team for a huge range of chocolates and sweets at great prices, plus hard-to-find groceries and products from Mexico, Asia, Columbia, Poland, Holland and the UK. 
Bakery
Agathé Pâtisserie - Aisle B, Stall 63
Hot cross brioches made with special hot cross spices from Gewurzhaus – glazed with a Tahitian vanilla infused syrup, and fresh orange juice
Spiced chocolate hot cross buns made with spiced chocolate from Gewürzhaus, cranberries and single origin chocolate
Chocolate eclairs – just like in France!
Chocolate Kouignamann
Stripy peanut chocolate croissant
La Lapa - Centre Aisle, Stall 130
Hot Cross buns (4 for $10), donuts, Portuguese tarts and cupcakes.
St George's Bakery - Coventry Street, Stall 42
Award winning yeast free sourdough hot cross buns $8.50 per half dozen – plain (vegan) and also chocolate.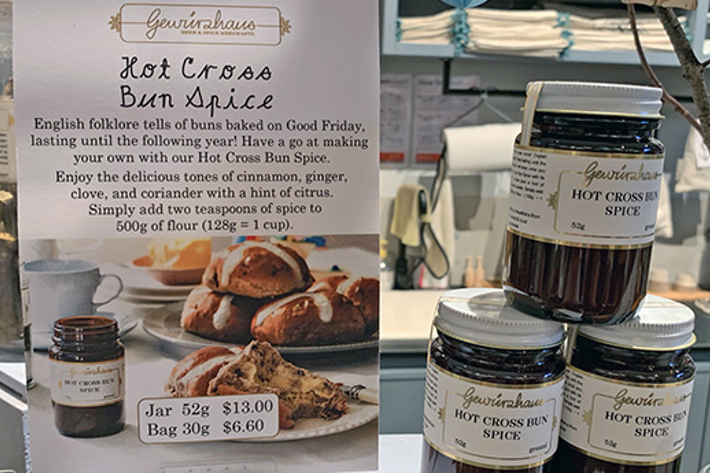 Moses & Co - West Aisle, Stall 26
Gluten free and vegan hot cross buns from $14.50 or $14.95 per half dozen
Banjo carob bears $16.50
Vegan Pana eggs (almond, mylk or salted caramel) $10.50
Seafood 
Looking for the perfect catch for your Good Friday fish pie, Mediterranean stew or salmon patties?
Or something more contemporary, like sashimi grade tuna, salmon and flounder to make a ceviche?
In our Deli Aisle we have three seafood stalls with the freshest fish to make a seafood feast to remember.
Aptus - Deli Aisle, Stall 25
South Melbourne Seafoods - Deli Aisle, Stall 4
The Fish Shoppe - Deli Aisle, Stall 31
Chocolate Free Egg Hunt
If you don't want to fund your dentist's next overseas trip here's some ideas for an egg hunt or present that will last longer than a chocolate egg.
Clare's Bears & Wares – Aisle F, Stall 139
Beautiful fluffy and soft rabbits from Bunnies By The Bay $24, a singing rabbit called Flora $75 and the most life like Bilby which is also a puppet.
Spotty Dot  - Aisle B, Stall 61
You can't go past their popular "Huggie" soft plush toy with soft OB Designs fur and lovely long ears. Irresistibly cute and a perfect gift. Available in Sage, Dusty Pink and Brown for $34.95.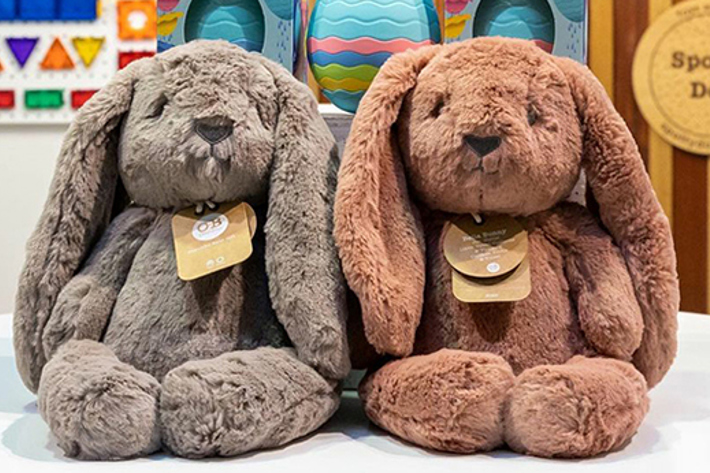 TheSuperCool Kid - SO:ME Space, Stall 172
Piki basket for egg collecting $46, Bunny socks $26, bunny stickie plate $29, Lovely bunny musical wind up $41, Mystery bunny throw $1 and small floppy ear bunny head $136. 
Ruby & Sky - SO:ME Space, Stall 134
Gorgeous hand-threaded freshwater pearl bracelet makes for a special gift and matches beautifully with their Bunny Necklace, but also looks fantastic paired with the Bunny Charm Bracelet. 15cm round and safe for children 3 and above $34.95.
Decorations
Gewürzhaus - Food Hall, Shop 3
Ostereierbaum is a well-known, centuries-old German tradition of decorating trees with eggs and Gewürzhaus have imported a stunning range of wooden eggs from Germany.
Beautiful paper mache painted eggs $12.95
Gianna Molinaro - West Aisle, Stall 222
Artisian egg candles from Little Light $32.00 – $175.00
Yakedy Yak - Aisle C, Stall 179
Sitting Rabbits  in two sizes to decorate your Easter table, Small:$3.95 Large: $6.95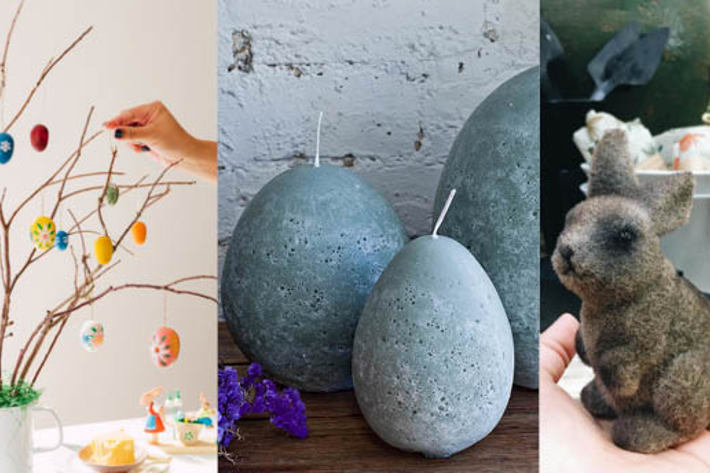 Home Delivery with SMM Direct
Can't make it to the Market for your Easter shopping? Let us come to you. We'll be delivering all Easter long weekend across Melbourne and regional Victoria. That's right – you can have fresh seafood delivered on Good Friday, Easter chocolate and gifts delivered on Easter Sunday and all your weekly groceries delivered on the Monday public holiday!