Since 1867, South Melbourne Market has been a treasured inner city landmark and a favourite amongst locals and visitors. It is the quintessential village market, a place where people come not only to purchase fresh food, but to meet, eat, drink, shop, discover, share and connect.
What to expect...
Each aisle is full of authentic traders who display their wares with pride and passion. Quirky and playful characters are found behind the counters, delivering old fashioned customer service with a smile. We embrace and showcase the local, supporting local farmers, artisans and producers.
It's a foodie's paradise where freshness, quality and diversity are paramount with food stuffs from land to sea. We celebrate a philosophy of real food, encouraging you to cook food that is made from great quality, fresh produce sourced from our family of traders you know, love and trust.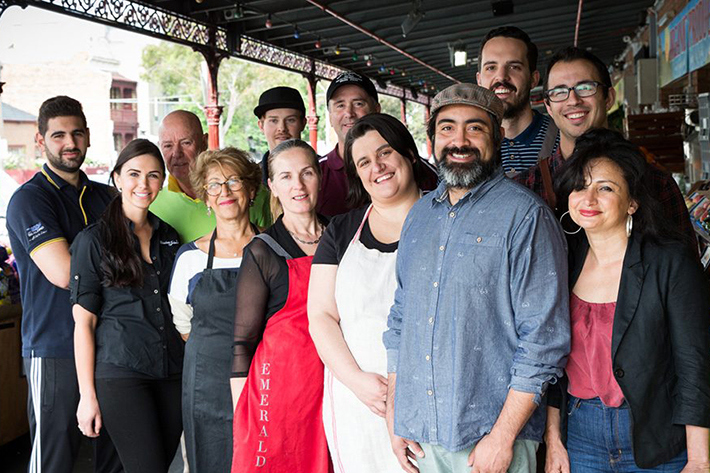 We are a home to seriously good coffee, specialty tea and a vibrant restaurant precinct for day and night time fun. There's also an amazing array of merchandise and services with everything from clothing, homewares and second hand books to hairdressing and pet food.
With a full calendar of live music, events and activities, the Market is a happy and experiential place that celebrates the senses. Take a trip to the Market, you never know what you'll find, but we guarantee it will be full of surprise, moments and wonder.
Things you won't find!
Caged Eggs
South Melbourne Market banned the sale (and use in cafes and restaurants) of caged eggs in 2014. All traders selling (or using) eggs at the Market are required to clearly label the bird density of the farms in which their eggs originate as well as identify products as barn-laid, free range or organic.
Inauthentic Indigenous Art
The City of Port Phillip introduced an Aboriginal and Torres Strait Islander Art and Cultural Products Code of Practice in 2019 to guide any retailers of Indigenous art and products of what they are permitted to sell. The City of Port Phillip and South Melbourne Market is proud of its Aboriginal heritage and recognises the Traditional Owners of the local area. Aboriginal and Torres Strait Islander artists and their work make a major contribution to the cultural richness of our city, and to ensure that cultural richness continues to be celebrated, respected and preserved, the Code has been developed for retailers of Indigenous art. At the Market you'll find traders proudly stocking authentic art and products produced and created by talented First Nations people.
Unethical Animal Fur
South Melbourne Market is committed to the responsible sale of fur products and have a strict fur authentication and labelling policy that forms part of the licence agreement with our traders. This policy meets the International Fur Federation and Furmark certification standards and is in place to support transparent and ethical sourcing, lifecycle and manufacturing of real fur product.