Junior Chef Challenge - Autumn 2022
Make your own dumpling wrappers! 
If you would like an extra challenge you can make your own flour dumpling. They only require a few ingredients and are easy to mix, but they do take time to roll out and cook. Don't worry if your dumplingss' are wonky - they will still taste just as good!
The Junior Chef Challenge is optional and aimed at children aged 9+. If not taking the challenge, dumpling packs are available to purchase at the Market.
Ingredients
2 cups plain flour
1/2 teaspoon salt
3/4 cup of boiling water
Method
Place flour and salt in a bowl and gradually add the boiling water and mix well with a spoon
Transfer it to the work surface and kned the dough for 8-10 mins
Portion it to 2 equal pieces and shape it to a long log shape. Cover with cling wrap and leave aside for 30 minutes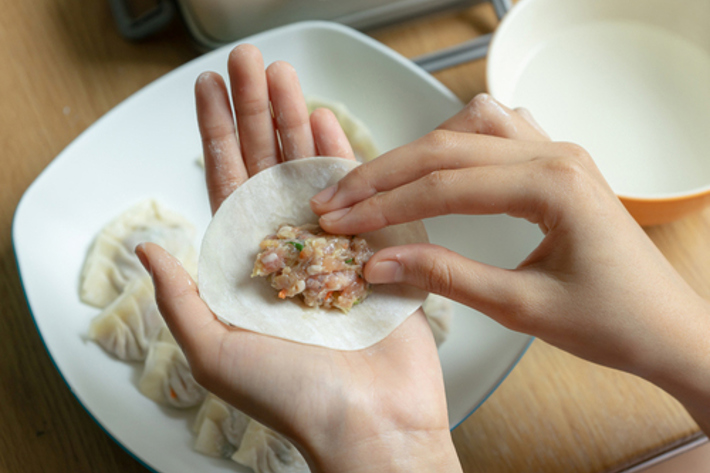 Dust the work surface with cornflour and cut the one long log shape dough into 12-13 equal piece. Once cut cover with a damp cloth to avoid to from drying
Take one piece at a time and flatten it using a rolling pin
If you don't get a perfectly shaped round, then use a round-shaped object to cut the dough
Repeat the process for each wrapper. Dust the wrapper with cornflour and cover with a damp cloth to avoid it from sticking together.
Dust cornflour to a baking tray to place the made gyozas
Place 1 gyoza wrapper on your palm. Dip your finger in water and run it around the edge of half the gyoza wrapper. Place 1 tbsp of filling on the middle of the wrapper. Fold the wrapper over. Use your thumb to create 4 pleats. Press to seal and place on the tray. Repeat with remaining wrappers.