New Opening: Greek'n Out
Published 11 October 2023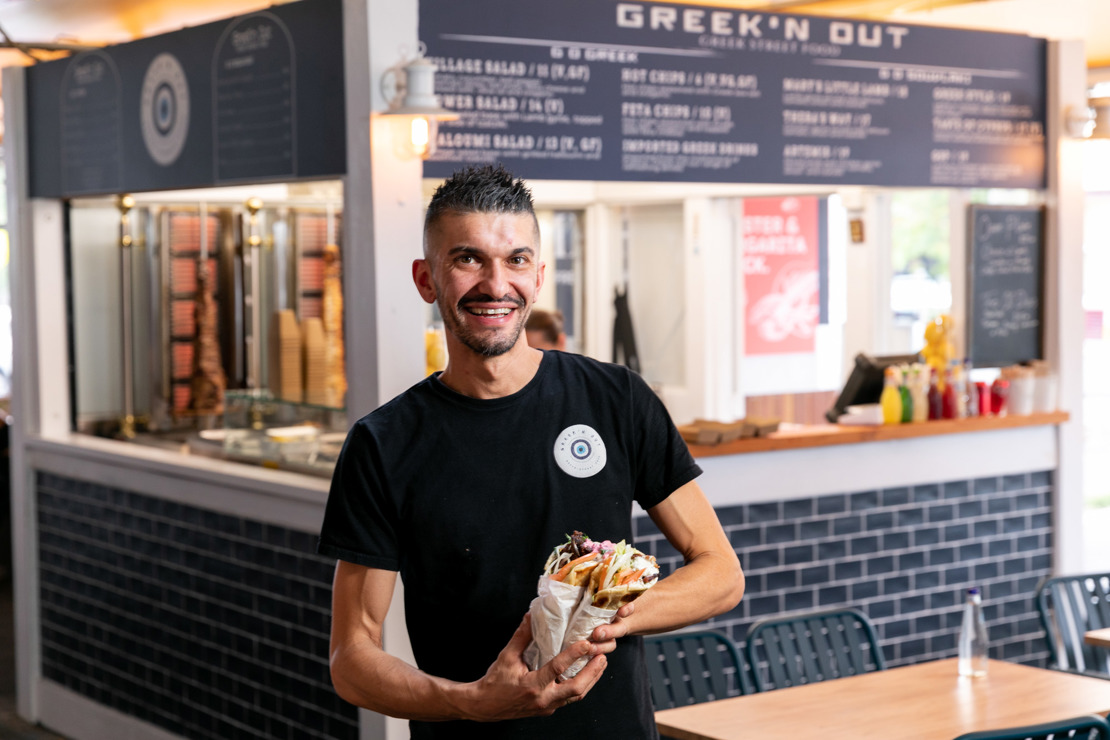 You'll be ecstatic to learn that Greek'n Out's brand-new dine-in eatery has opened its doors!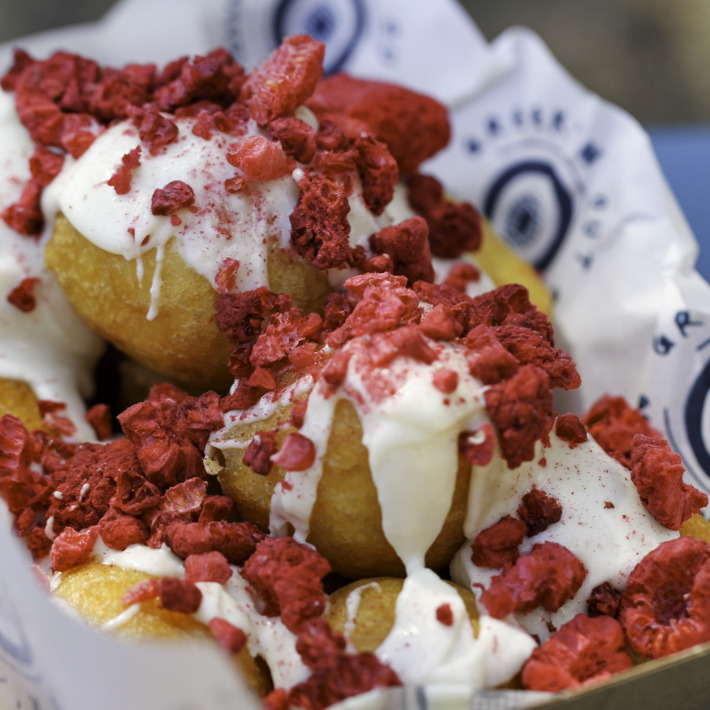 If you've had the pleasure of devouring one of Greek'n Out's tasty street food offerings, you'll be ecstatic to learn that their brand-new eatery has opened its doors!
As you step inside, you're instantly transported to Santorini with pops of the country's famous colourway of crisp white and ocean blue. The banquet seating is perfect to share with friends, sit at the bar or reveal in the Market's atmosphere alfresco in the hustle and bustle of Cecil Street.
The Greek'n Out kiosk has been transformed into a coffee and donut bar specialising in Loukomades. These Greek donuts are traditionally served soaked in hot honey syrup, sprinkled with cinnamon and garnished with chopped walnuts or toasted sesame seeds (which are on offer). However, Greek'n Out has also put a spin on this classic with a handful of modern flavours including milk chocolate and pistachios, white chocolate with cookies and cream, and white chocolate with raspberry. Wash these sweet treats down with a traditional Greek coffee served hot or over ice. Yum!
For the main affair Greek'n Out still offers their delicious Souvlaki! Cut-to-order slow-cooked chicken or lamb, adorned with fresh salad and herby tzatziki all wrapped in a pillowy pita. But their menu has certainly expanded since then! 
Open for breakfast from 7.30am on Wednesday through to Sunday, you'll find classics such as tiropita and spanakopita - famous savoury Greek pastries that champion feta cheese. Or start your day with a classic aptly named 'The Big Greek' which is a generous serve of eggs your way, grilled tomato, halloumi, bacon, mushrooms and hash browns served with toasted sourdough. 
Moving on to lunch and dinner they have a mouthwatering selection of salads, and meze. Think house-made dips, dolmades, and crispy saganaki cheese. They also serve skewers made up of tender lamb, chicken or pork (and a vegetarian option of course) served with warm pita and fries coated in Greek seasoning.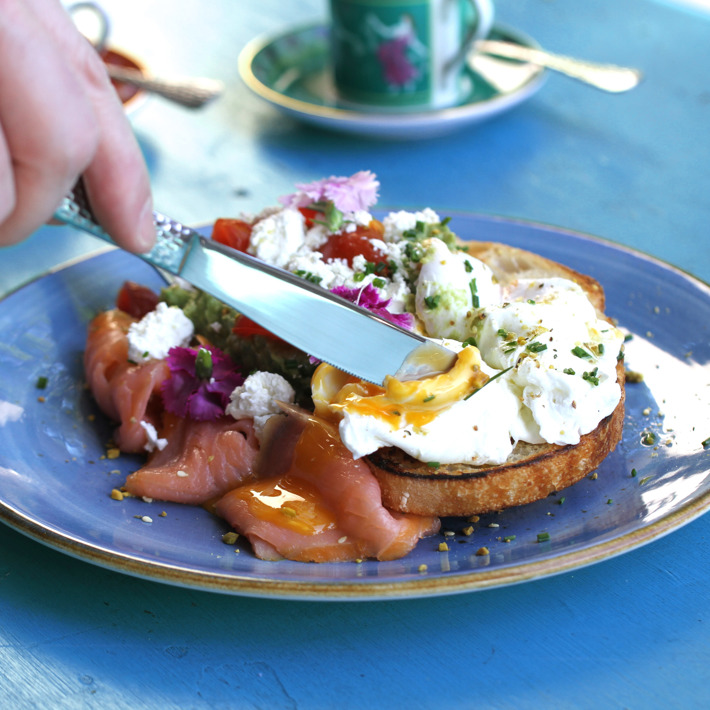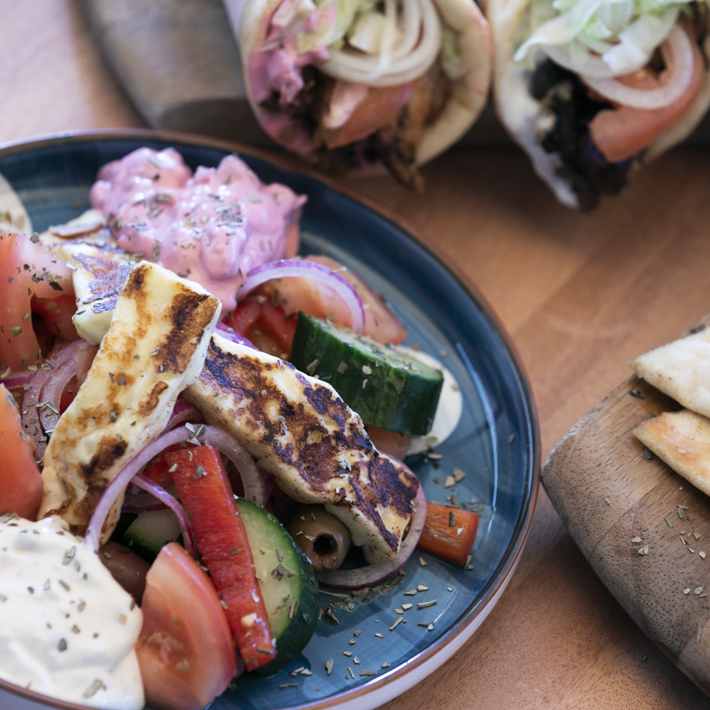 Their seafood menu is a pescatarian's dream! Think grilled octopus, black mussels deglazed with ouzo and sauced with rich tomatoes, king prawns topped with Greek herbs, and a zesty lemon dressing, order their platter and try all of the delicious fresh seafood and fish at once, or let's pretend we're sitting pretty in the Mediterranean and feast on their to-die-for seafood linguine featuring plump scallops, mussels and king prawns. 
If you're someone who finds it difficult to choose, there's no need to fret, opt for their banquet menu where you'll enjoy mixed dips, pita bread, saganaki, Greek salad, a selection of meats and chips finishing off with dessert, and tea or coffee. 
Greek'n Out is open Wednesday to Saturday from 7.30am- 9pm and Sunday from 7.30am - 6pm - see you there!