Zero Waste
Recycling
Sustainability
Farewell to Plastic Produce and Net Bags!
Published 20 June 2023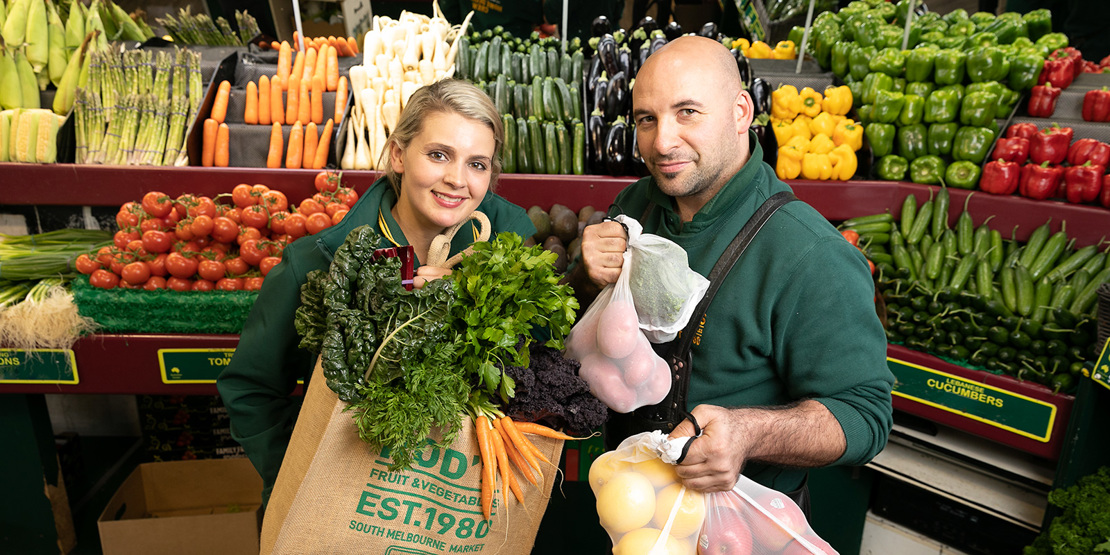 Single-use plastic produce and net bags will be removed from the Market's fruit and vegetable stalls from 1 July, forming part of the Market's ongoing commitment to wipe out waste
From 1 July, single-use plastic produce bags and net bags will be removed from South Melbourne Market fruit and vegetable stalls.
This is yet another step in the Market's commitment to phase out unnecessary single-use plastics from the Market and is one of the key actions of the Market's first Environmental Sustainability Strategy.
The best thing you can do to support the ban and help our planet is to skip the bag (many fruit and veg, such as bananas, corn and oranges, have their own natural, protective barrier so don't need a bag!) or to bring your own (BYO) produce bags and boxes. These might be old bread bags you've saved from home or a pouch of reusable mesh produce bags which are available to purchase from Market traders and the Market Office (located in Centre Aisle).
For the times when you've left your bags on the side table or made a spontaneous visit, our traders will have paper bags available for when you can't go without.
Through the combined efforts of our shoppers and traders, we will be avoiding tens of thousands of single-use plastic items going to landfill every year. We can't wait to see this number grow as we continue to remove unnecessary single-use plastics from the Market in the coming years.
Click here to visit the Market's Environmental Sustainability web page for more information.
To note: Plastic produce bags are those used at the time of purchase and does not include plastic bags used for packaging purposes. Plastic bags will still be allowed for wet items like fish, meat and poultry - we will be addressing these later in our five-year phase-out as better options become available. In the meantime, we encourage you to bring your own containers when shopping for your sausages, chicken breasts or prawns.