Sustainability at the Market
At South Melbourne Market, sustainability is something we are passionate about and we're striving to reduce our environmental footprint and create a sustainable Market for future generations to enjoy.
The Market continues towards a greener, more sustainable future with the following initiatives implemented in recent years.
Recycling Organic Waste
Vermicompost Worm Farm Project
Each year, approximately 400 cubic metres of green waste is taken to a worm farm, reducing our green waste onsite by approximately 98 per cent.
All our green waste is collected twice a week and taken to a farm on the outskirts of Melbourne and fed to millions of worms, which turns our green waste into worm castings or vermicompost.
This nutrient-rich vermicompost contains minerals and a highly active biological mixture of bacteria and enzymes that are beneficial to plant growth.
The Market sells this (Market Magic Plus), along with a diluted version combined with mushroom compost (Market Magic) as organic fertilisers for your garden. Find them available to purchase at the Market Office located in Centre Aisle.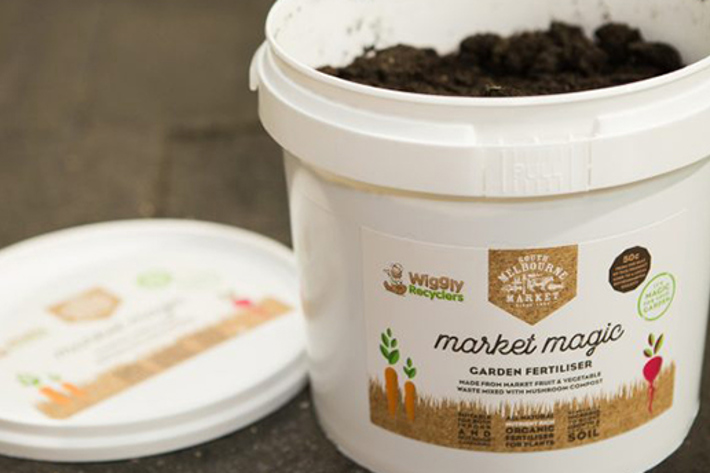 The Gaia Recycling Unit
The rest of our organic waste is collected and funnelled into our onsite 1,200 litre Gaia machine. This machine heats the waste, shreds it and activates a very fast fermentation and dehydration process, turning it into a dry product called SoilFood™ in just ten hours.
SoilFood™ is rich in concentrated nutrients and makes an excellent high-nitrogen, slow-release plant fertiliser. It is also for sale at the Market. Waste that is processed in the Gaia includes:
coffee grounds
fish offal
prep waste from restaurants and cafés
left-over waste from customers
deli waste
bread
high-acidic products such as citrus, pineapples, onions and more.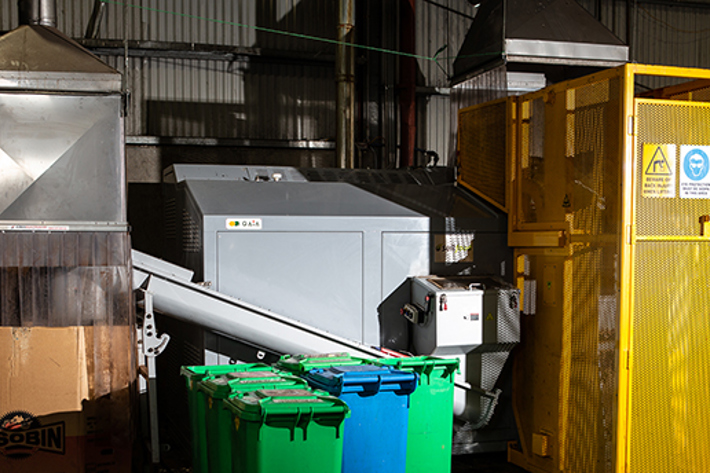 For the 19/20 financial year, the Market processed on average 5.5 tonnes of organic waste per week through the Gaia machine, equating to over 275 tonnes of waste per year of organic waste being diverted from landfill.
The Benefits
Reduction of organic waste in landfill saving landfill space for other purposes and eliminating the anaerobic rotting of the waste which generates methane and leachate.
Elimination of carbon emissions that result from transporting the waste to landfill.
What was previously discarded as waste now has an environmental (soil) value.
The economic payback from the process arises from the long-term reduction or elimination of fees for hiring skips or bins and paying landfill tipping fees.
Completing the circle on food waste from South Melbourne Market - with nothing to landfill, benefits back to community and the earth.
South Melbourne Market and its owner the City of Port Phillip as leaders in waste diversion, sustainability and innovation.
Being part of a meaningful change and providing a Market for future generations.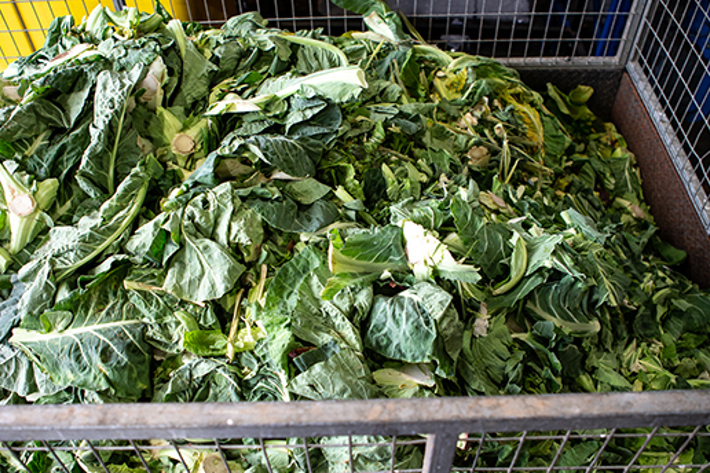 Shuck Don't Chuck 
Oyster, mussel and scallop shells are recycled in a partnership with The Nature Conservancy. Shells are collected from the Market, cured and then used in a reef restoration project aimed at rebuilding the precious ecosystems in Port Phillip Bay.
Shell recycling provides a sustainable way for the Market to deal with shellfish waste while decreasing landfill, and it's another way the Market is helping to protect our planet.
You can help us by putting your shells into the correct bins and making sure no other plastic or other contaminants go into these bins. Read more about the project HERE.
Recycling
Glass
The Market has an onsite bottle crusher where 100 per cent of the glass at the Market is crushed for recycling. Of the crushed glass, 80 per cent is recycled into glass bottles while 20 per cent is used in road base and as a paint additive. The size of the crushed glass enables it to be sorted by colour using an optical process.
Each year the market crushes approximately 30,000 kg of glass, with a reduction in CO2 emissions equivalent to 60,000 kms driven in a family car per year. From 2019 to 2020 15,000 kg of glass was crushed.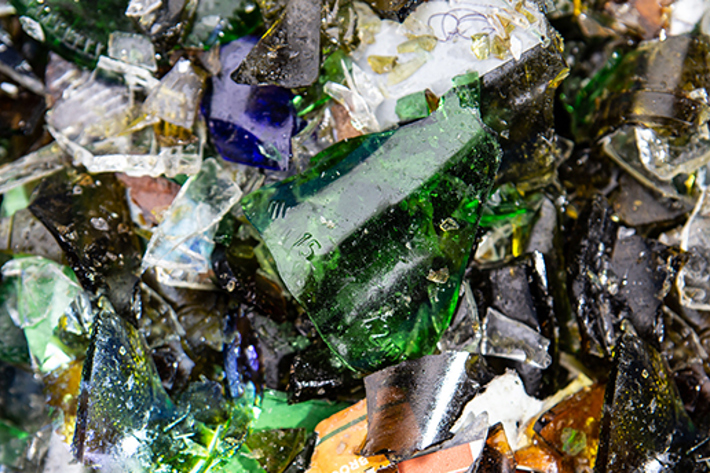 Coffee Cups
The Market has partnered with Simply Cups, Australia's first takeaway coffee cup recycling program.
Simply Cups work with local process innovators who have developed new technology to separate the plastic liner from the paper cup, allowing these two materials to be recycled. They collect the takeaway cups and create a resin suitable to upcycle into new products such as bench seats, kerbing and car stops.
Oil
Approximately 17,000 litres of oil from market food stalls and restaurants were collected for the 19/20 financial year.
The majority of this gets turned into biodiesel which fuels the vehicles owned by the company that collects the oil.
Polystyrene
All polystyrene boxes are compacted at the Market in our poly-compactor and made into polystyrene bricks. This reduces the volume of polystyrene by 98 per cent.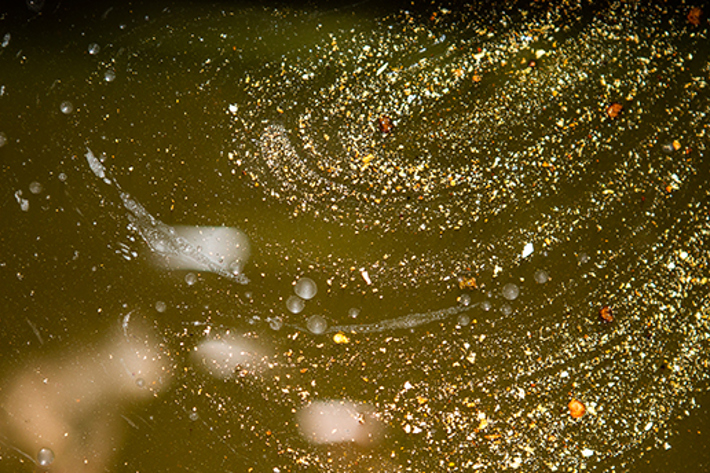 The compressed bricks are collected, melted and remoulded into different plastic products including CD cases, coat hangers, picture frames, toys, and office supplies such as pens, stapler bodies and rulers.
They are also utilised to manufacture wood-alternative products such as interior decorative mouldings. Hollow foam blocks are produced then stacked and filled with concrete to form building walls. These walls are more soundproof and provide greater thermal insulation, making cooling and heating more efficient.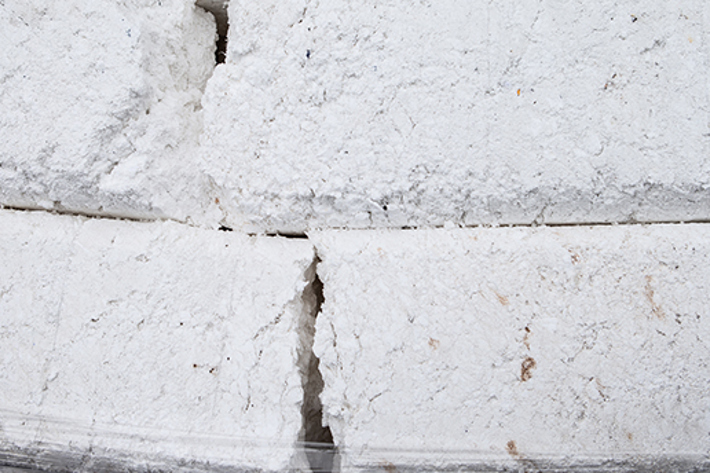 Plastic Milk Bottles
HDPE milk bottles are recycled into reusable materials in partnership with Vanden Recycling.
Milk bottles that have been rinsed in cold water can be dropped off at participating stalls or deposited in the dedicated bins at the Market. They are then collected and crushed in the onsite Mil-Tek 2205 machine which can crush and bale over 1000 milk bottles at a time, diverting 40x 120 litre bins from landfill with each bale!
These bales are then transformed into commodities such as plastic pallets, piping and ModWood decking boards.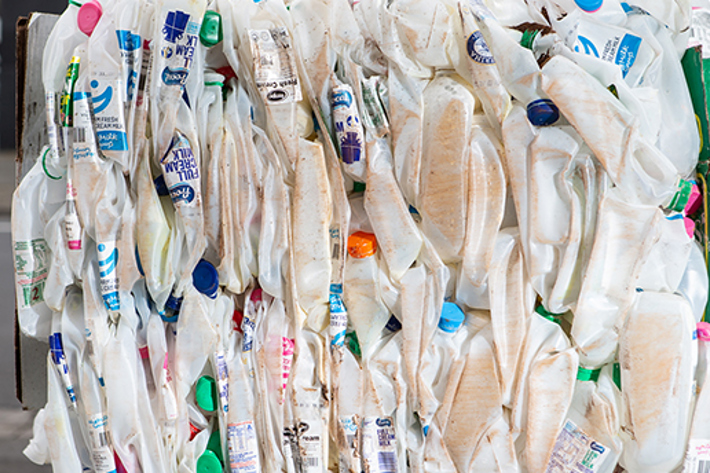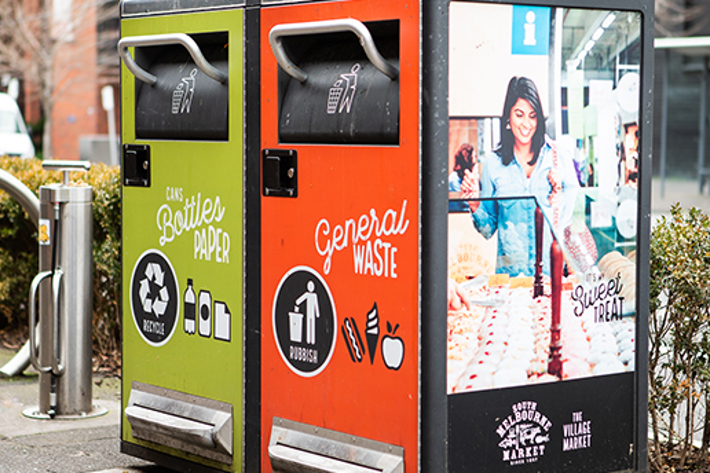 Waste Reduction
The Market has three solar bins (Big Belly Bins). These bins are a self-contained compactor bin that reduces waste by compacting it. The bin can hold 560 litres of rubbish compared to the same sized standard 240 litre public bin.
The bins also provide real-time status and data. The bin sends a message to the collector when it is ready to empty. The collection of the waste is significantly reduced by approximately 75 per cent, saving both time and money. With a compacting ratio of 6:1 the reduction in landfill size is significant.
Solar Power
The Market has a 234kW PV solar panel system installed on the roof of the car park. The solar panel system generated 165,000kw of electricity for the 19/20 financial year and saved over $20,000 per year in avoided electricity costs. 
EV Charging Stations
There are now 2 electric vehicle (EV) charging stations available in the carpark.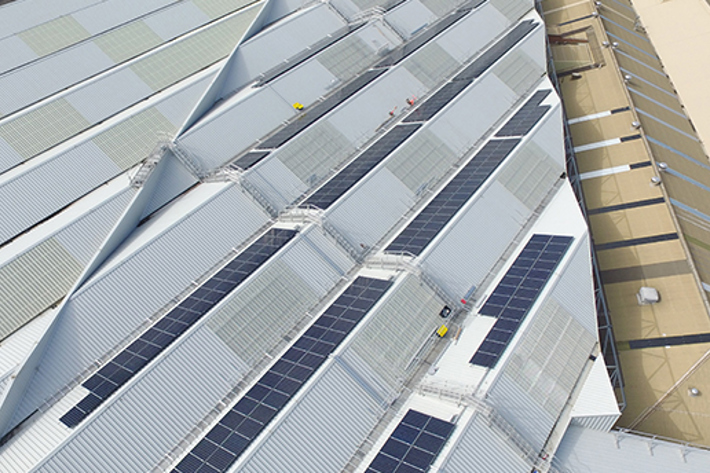 Water Management
Portable Water
Potable water usage for the 19/20 financial year was approximately 23883.15 kL.
Rainwater
The Market's 500,000 litre rainwater tank, located in the York Street car park, has collected approximately 1.24 million litres of water from the rooftop car park per year since it's installation in April 2014. This water is used to wash down applications, by florists and to flush the toilets.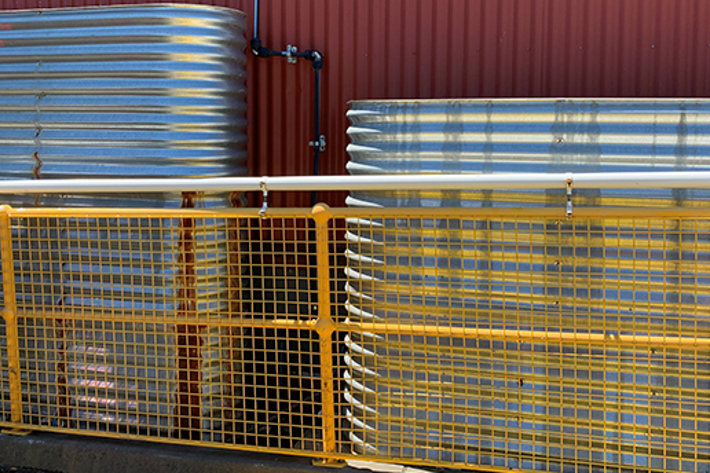 Monitoring
The Market's water usage is monitored by data loggers that measure how much potable and rainwater the Market is using at any given time, and can also indicate unusual water activity that could mean leaks and the location. The Market's water-metering project will now make each stallholder responsible for the water they are using.
Water Stations
The Market has three water fountains onsite. One is on Cecil Street which is accessible 24 hours a day and has a dog bowl facility, and two inside the Market, all with water bottle refill facilities.
Since installing the two internal stations in March 2017 the Market has diverted the equivalent of over 7,750 plastic bottles of water from landfill.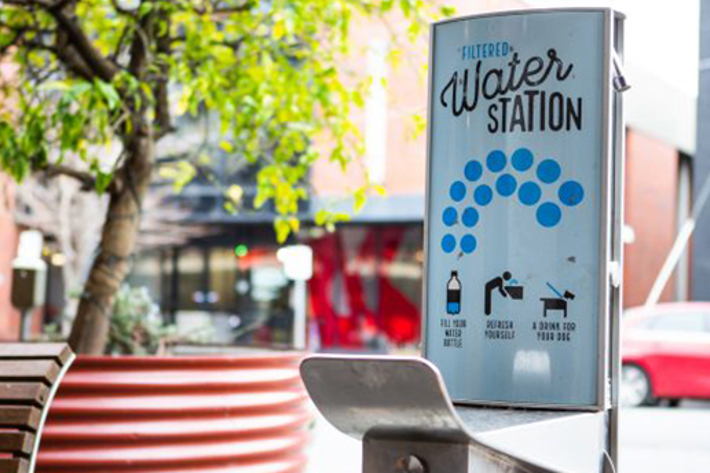 Single-Use Plastics
BYO Bag Campaign
The Market banned single-use plastic bags in April 2018, a significant step for us in moving towards a greener, more sustainable future. Shoppers are encouraged to bring their own reusable shopping bags, baskets and trolleys to the Market, or if they forget, they can borrow a boomerang bag, purchase a reusable shopping bag from the Market Office or a paper bag from our traders.
Say No To Straws
The Market banned the sale and supply of plastic straws in December 2018. Traders can now supply recyclable paper straws or reusable straws.
BYO Containers
All traders at the Market accept BYO cups and containers as long as they are clean, dry and suitable for the product being sold.
Find out more
Like to know more? Get in contact!