Zero Waste
Traders
Sustainability
Early Adopter Sustainability Grant Program - Traders Announced!
Published 7 June 2023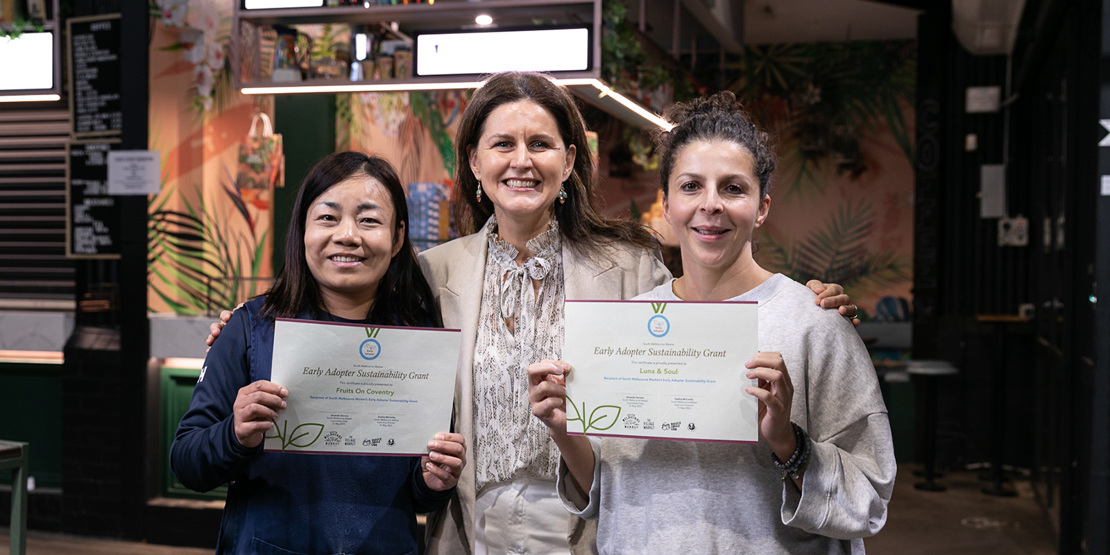 We are thrilled to announce the four traders who are leading the way with sustainability in their businesses.
South Melbourne Market and the City of Port Phillip are pleased to announce the successful applicants of our inaugural Early Adopter Sustainability Grant Program:
Please join us in congratulating these innovative traders and show your support for their upcoming projects by popping by their stalls on your next visit to the Market. We'll be sharing their journey to implement their initiatives on our website and via social media, so stay tuned!
The Early Adopter Sustainability Grant Program is an action of the Market's first Environmental Sustainability Strategy, which has launched this year. The strategy has been developed in collaboration with the Market's traders, cleaning and waste management contractors, the South Melbourne Market Committee and City of Port Phillip Council, with the draft strategy also being shared with our customers and community for feedback and input in February and March.
The strategy identifies a range of actions to achieve in three key areas: wiping out waste, transitioning to zero carbon energy emissions and reducing our water use and impact on our waterways.
The grant program encouraged traders to implement environmentally sustainable business practices ahead of and/or beyond the actions outlined in the strategy. With grants of up to $10,000 available, the funding can contribute to projects such as upgrades to stall fit-outs, design and development of new products or services, community education or incentives and initiatives that reduce plastics and waste.
The grant program will run again in the coming year thanks to support from the City of Port Phillip, and the Market encourages our customers to get behind our traders and share ideas and advice for initiatives and innovations that will help create a more sustainable future for both their businesses, the Market and our local community.