Spring
Traders
Food
Healthy Eating
Spring at the Market
Published 1 September 2021
Find out what fresh produce is now in season
After another hard winter of discontent with the virus-that-shall-not-be-named, there's a spring in our step as a new season and warmer weather are on the way. 
Spring is all about light, fresh dishes - try great this recipe for King Island chargrilled octopus legs from Ang at Aptus Seafoods or this special family salad recipe from Avihu at Deli Nuts for a stunning carrot, pecan and cranberry salad. 
Remember if you can't get to the Market, you can shop online for same day Melbourne delivery with SMM Direct. 
Seafood
Our fishmongers all have an extensive variety of seafood available in store or online.  Ang from Aptus Seafood gave us the lowdown on the best seafood coming into season.
"At the moment we've got some nice local scallops from Tassie we're processing on the premises for $2 each. Beautiful cooked yabbies, which have just come out of hiding at $39.90. Lobsters are very cheap $79.90 and $89.90 which is never heard of as the export market is non-existent so for the local market that's great. Oysters from Coffin Bay, Bruny Island, St Helens are beautiful. Mussels are starting to fatten up now so they're nice and plump. In fresh scale fish we've got some beautiful Flathead that is reasonably priced, Swordfish, Marlin and Blue Fin Tuna, usually $60-$80 a kilo is $49.90. The sun's coming out and we'd like to see you down here!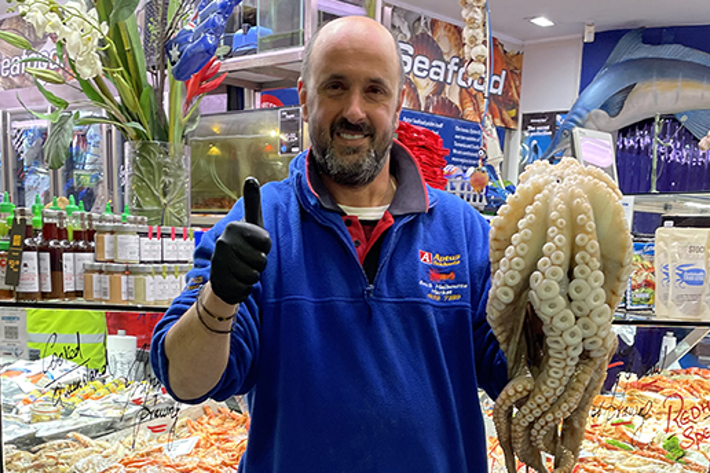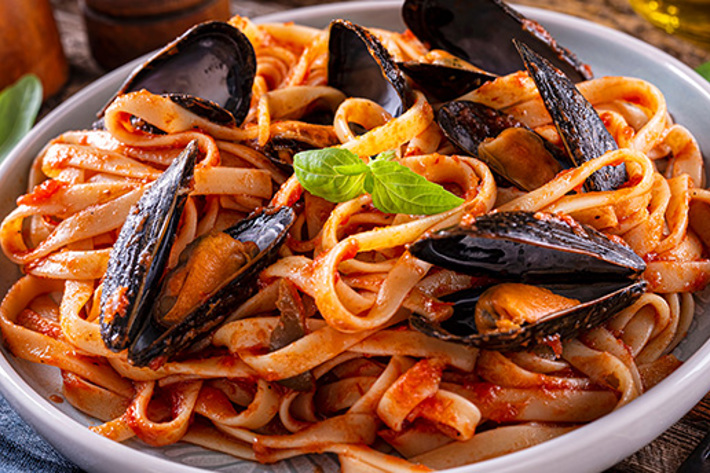 Lamb
Spring lamb is in season and our butchers have top-grade fresh produce. Barry from Kirkpatrick's Meats said:
"New season lamb from the rich volcanic soils a the Parwan Valley is now available at Kitzpatrick's."
Kirkpatrick's Meats sell quality produce that is hormone-free, with lamb sourced from Fred Kirkpatrick's own farm. In store now are lamb, lemon & oregano sausages.
Hagen's Organic Butcher have lamb mince, loin roast, loin chops, shoulder, shanks, ribs, rack and shoulder on the bone. 
Ralph's Meats have marinated butterfly legs of lamb, cutlets, loin, mince, scotch roasts and shanks. Shop online via SMM Direct (same-day, Melbourne delivery).
Tony's Meat Supply have lamb koftas, kebabs, sausages, Greek marinated backstraps, butterflied legs, tender fillets and boneless shoulder. 
Our butchers are all open every Wednesday, Friday, Saturday and Sunday during lockdown. 
Lamb Recipe:
Try this great recipe with lamb shanks (pictured) from our trader Zarifa Hameed of Zarifa's Collection.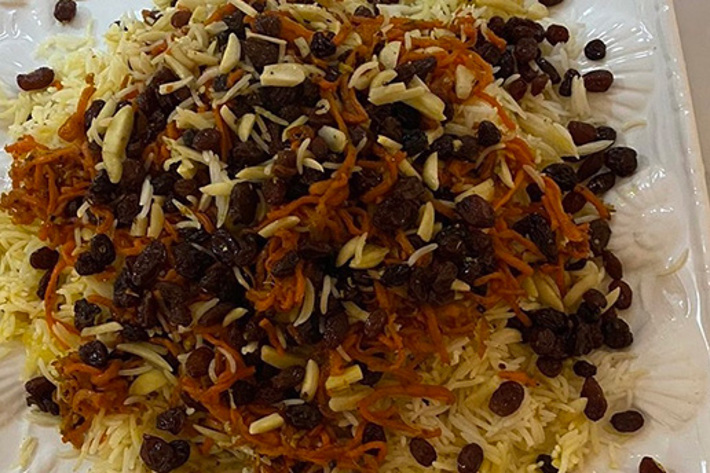 Fruit & Veg  - what's in season!
| | | | |
| --- | --- | --- | --- |
| Bananas | Kiwi fruit | Limes | Pomegranate |
| Berries | Grapefruit | Mandarins | Strawberries |
| Blueberries | Grapes | Papaya | Watermelon |
| Dragonfruit | Lemons | Pineapple | Raspberries |
| | | | |
| --- | --- | --- | --- |
| Artichokes | Brocoli | Kohlrabi | Potatoes |
| Asian greens | Cabbages | Leek | Silverbeet |
| Asparagus | Carrots | Lettuces | Spinach |
| Beans | Carrots | Onions | Sweet Potato |
| Beetroot | Fennel | Peas | Sping Onion |
If you can't get to the Market at this time, don't despair! The following Fruit & Veg traders offer online shopping and home delivery services: 
Salad Recipe:
Alex Meimetis of Koy Restaurant in the Market's Cecil Street restaurant precinct shared this fabulous Bulgar Pistachio Salad. You can source all the ingredients from our Market traders!