Food
social enterprise
Zero Waste
Sustainability
Traders Provide Food Relief
Published 24 July 2021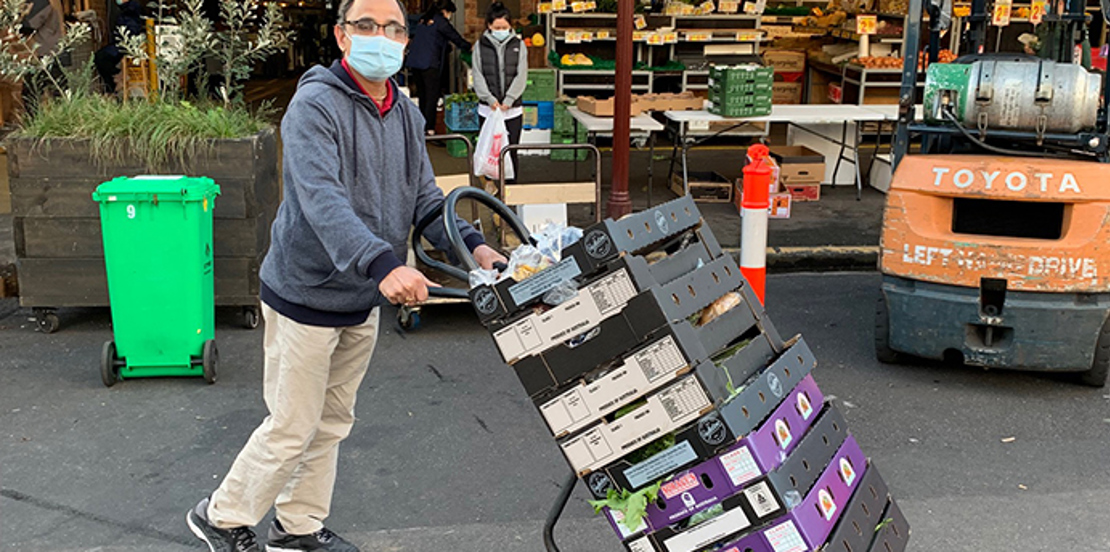 Market traders donate produce to help those in need during Melbourne's lockdowns
When the COVID-19 pandemic hit our shores last year, the Port Phillip Community Group (PPCG) quickly became the major food response for the most vulnerable and isolated in our local area.
With support from the City of Port Phillip, South Melbourne Market traders and other agencies, PPCG volunteers were able to provide food staples weekly via their Share The Food initiative. 
From April 2020 to March 2021, 23,549 food parcels and meals were packed and distributed to residents facing financial hardship from COVID-19. However when autumn ended in Melbourne this year, the need grew again.
As Lou Campbell, Emergency Relief Coordinator from the Port Phillip Community Group observed;
"It's winter time, we're locked down again and demand has increased exponentially, we're in the perfect storm." 
At the Market, our fruit and vegetable and florist traders continue to donate surplus fresh produce weekly. Sherif Balla from Sherif's Quality Fruit & Vegies said;
"Obviously everyone is struggling during this pandemic and we thought it was a good way to give back to the community because they've supported our small business over the last 25 years."
Every Sunday, produce is collected from the Market by Hare Krishna Melbourne who provide ongoing and exceptional support with transport and deliveries as well as cooking around 5,500 weekly meals in their Albert Park The Food For Life Kitchen.
The food parcels are packed from a warehouse in Fisherman's Bend by PPCG volunteers and distributed by City of Port Phillip employees.
PPCG are currently fundraising to support their initiatives, including Share The Food. If you would like to help, you can make a tax deductible donation to this important social enterprise by clicking on the link below.