Eat & Drink
Fruit & Veg
Summer
Healthy Eating
Summer at the Market
Published 24 January 2022
Our fruit and vegetable stalls are brimming with berries!
Summer has arrived with plenty of hot weather allowing Melbournians to enjoy outdoor activities like picnics, barbecues and outdoor dining. Here at the Market there's no stock shortages - we have the best of the season's fresh produce and everything you need for a perfect picnic in the park or a BBQ in the backyard. 
Our fruit and vegetable stalls are brimming with berries, stocked with stone fruits and refreshing tropical fare like mangos, pineapples and melons.
There's also an abundance of fresh greens including standard summer stock of watercress, cucumber, asparagus and avocados.
Salads are the go to for the warm weather we're currently enjoying. Try making this easy vegetarian Gado Gado recipe or a simple Vietnamese Prawn and Noodle Salad, perfect for a night when the temperature is still hovering over 30 degrees!
Picnic Fare
If you want something ready to go head to our Food Hall on Coventry Street or our Deli Aisle where you can pick up:
banh mi, rice paper rolls & sushi 
boreks, falafel wraps & gaguettes
cheese platters and dips
quiches & tarts 
poke bowls & salads
smoothies, juices and Gelato!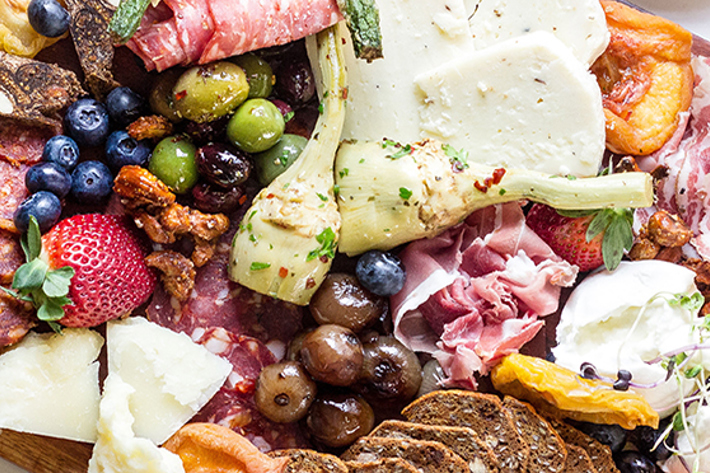 Chris from K&L Poultry says "We have all your marinated BBQ needs! We have lemon pepper and peri peri breast sticks, peanut or honey soy thigh sticks, lemon pepper, lemongrass and coriander sundried tomato breast and thighs, plus honey soy wingette and drummettes.
For the BBQ
Our butchers in the Deli Aisle have every type of sausage you can think of except the vegan and vegetarian variety which can be found at Moses & Co. Other meat offerings include koftas, kebabs, chicken bbq sticks, marinated chicken fillet strips. 
Our seafood stalls also in the Deli Aisle have prawns, cutlets, tuna steaks and whole fish. Whole snapper is delicious filled with chilli, garlic, orange slices, coriander and ginger. Just wrap in foil and pop on the BBQ turning once.  Or try this simple recipe from Ang at Aptus Seafoods for Chargrilled Octopus. 
Check out our seasonal produce list below to help you plan your weekly shop!
You won't find empty shelves at the Market, there is abundant stock in all our fruit, veg, deli, meat, seafood, groceries and restaurants.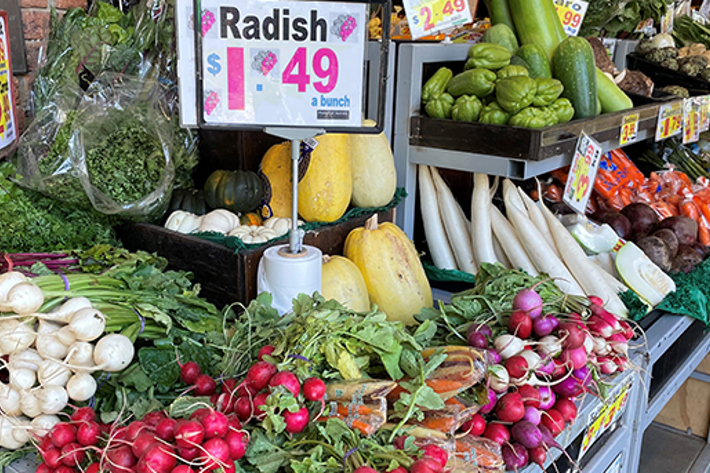 | | | | |
| --- | --- | --- | --- |
| apple | cantaloupe | loganberries | plum |
| apricot | cherry | lychee | pineapple |
| banana | cumquat | mango | raspberries |
| blackberries | fig | nectarine | rhubarb |
| blueberries | grapefruit | passionfruit | strawberries |
| boysenberries | honeydew | peach | watermelon |
| | | | |
| --- | --- | --- | --- |
| asparagus | carrot | leek | radish |
| avocado | celery | lettuce | silverbeet |
| beans | corn | okra | squash |
| beetroot | cucumber | peas | tomato |
| cabbage | daikon | radish | watercress |
| capsicum | eggplant | shallot | zucchini |
Did you know?
Indigenous weather knowledge identifies six seasons in the Nyoongar calendar for the southwest of Australia. There are two summers:
Birak—season of the young, the first summer from December-January when the rains ease up and the warm weather begins.
Bunuru—season of adolescence, a second summer in February and March. The hottest time of the year with little to no rain.