Reusable Produce Bag and Food Freshness Hacks
Published 30 June 2023
As South Melbourne Market prepares to go plastic produce bag free from 1 July 2023, we wanted to share some tips and tricks on reusable produce bags and how to keep your Market produce fresh.
There are many reasons why plastic is popular – it's cheap to produce, lightweight and packages food to keep it fresh. But if Mean Girls and Romy and Michelle's High School Reunion have taught us anything, it's that being popular doesn't always equal being nice (that, and don't lie about inventing Post-its).  
Most plastic is made directly from fossils fuels, many types can't be recycled and far too often they end up in our oceans and environment, killing wildlife and breaking down into dangerous microplastics.  
The good news is that many of these plastics are easily avoidable. This is why South Melbourne Market has banned the use of plastic produce* and net bags from July 1 2023. It's just the first step in our commitment to remove unnecessary single-use plastic from across the Market and help you reduce the environmental impact of your shop.  
To make the transition a little easier, we have put together some handy tips for sourcing reusable produce bags and keeping your food fresh in the fridge without plastic.
RESUABLE PRODUCE BAGS 

 
While we will have paper produce bags available for those times you forget, the best thing you can do for the environment is bring your own reusable bags.  Just like with shopping bags, the easiest way to make sure you don't forget is to have them stashed everywhere – some in your car, some in the pram, some in your man bag. A mix of the options below will help keep things affordable – and fun! 
Reuse plastic packaging
Bread bags, orange net bags, or the Rolls-Royce of reusable plastic packaging – the resealable, zip lock topped mountain bread bag. All can be saved and reused as produce bags. 
Make your own
Get crafty and make your own. From simple sewn ones using upcycle sheets to crocheted creations, a quick Google search will bring up thousands of tutorials to choose from. 
Buy reusable bags
Reusable produce bags can be widely found at a range of price points. Looks for ones made from recycled or organic materials - our five-packs of produce bags are made from discarded plastic water bottles and can be purchased at the Market office for $15.00.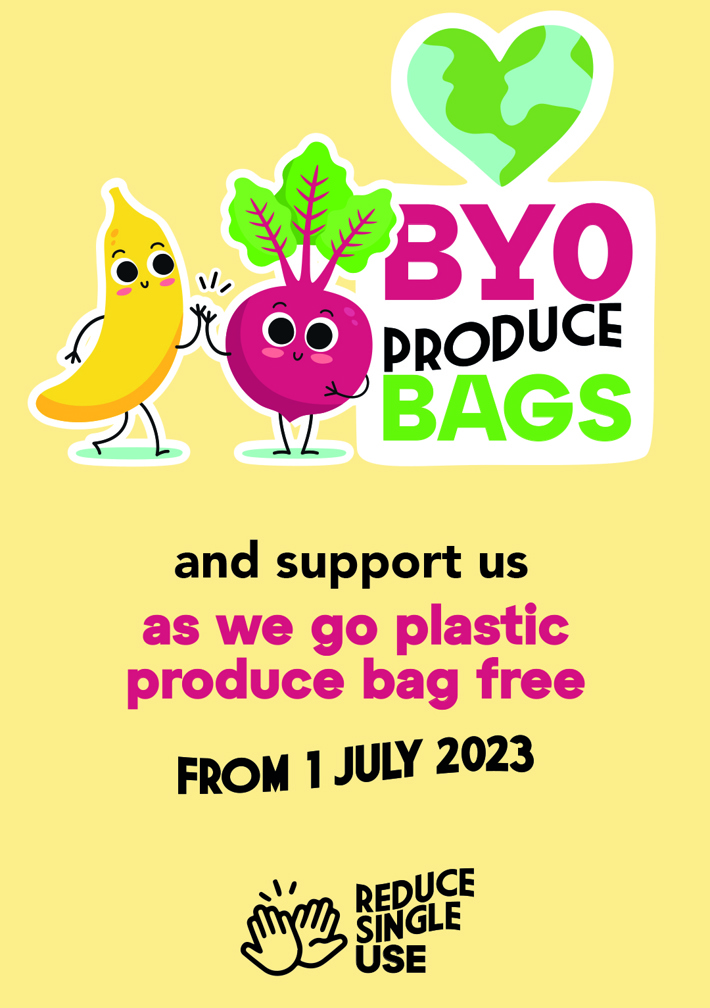 KEEP YOUR FRUIT AND VEG FRESH IN THE FRIDGE

 
The last thing you want is to find yourself using your softened beetroot as a stress ball because all your fresh veggies have withered and are headed straight for the compost. Luckily there are plenty of easy ways to keep your veggies fresh without plastic produce bags. 
Store in sealable plastic or glass containers 
If you don't have enough containers at home save large ice-cream, yoghurt or honey tubs. If you must buy new, try to purchase glass or high quality recycled plastic ones that will last a long time - W.B. Smith and Co Kitchenware has a great range! A tea towel or cloth serviette placed in the bottom will help absorb excess moisture and stop vegetables from going slimy. 
Reuse plastic packaging bags or shopping bags
Even the most diligent of us can end up with an unwanted plastic bag when a friendly neighbour drops by some home-grown lemons. Reuse these and other soft plastic packaging like bread bags to keep items fresh. Leafy items should be wrapped in a cloth, tea towel, or even an old pillowcase before putting in the plastic bags to help absorb moisture. After use, wash the plastic bags in soapy water and hang inside out on the line to be used over and over again.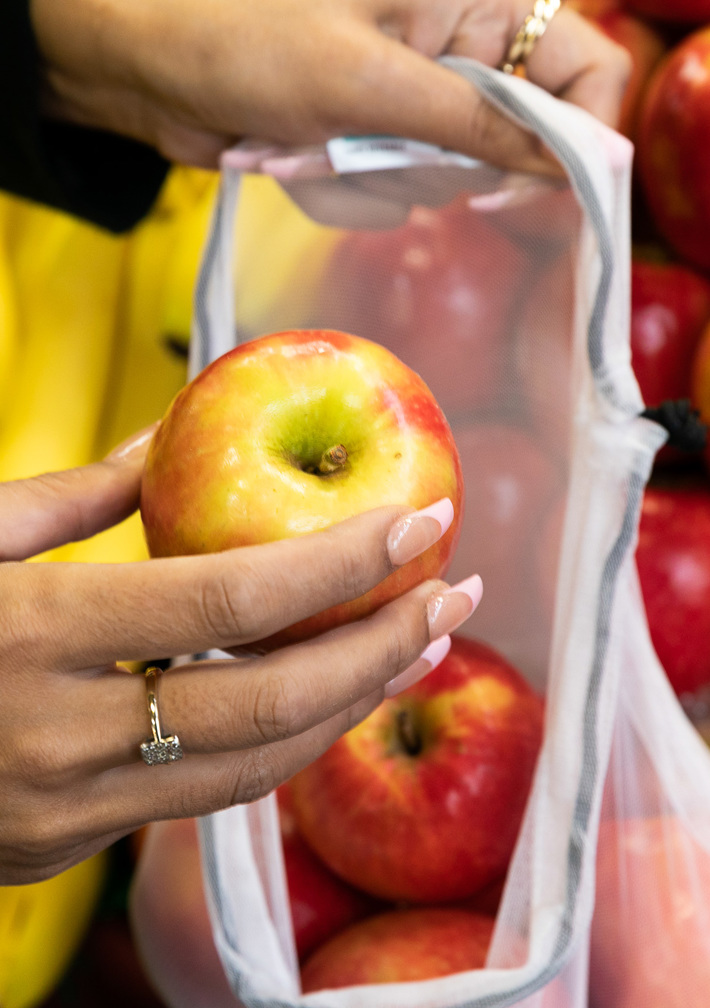 Glass jar on the bench 
In cooler weather herbs, celery and spring onions are happy to hang out in a glass jar of fresh water. Fresh herbs can also make an attractive centre piece for your next dinner party - just arrange a selection together in a cute vase. The team at In2Homewares will help you pick out the perfect size! 
Buy fridge-friendly reusable bags 
Some reusable bags are designed to help keep fruit and vegetables fresh in the fridge. The Market's recycled plastic mesh bags keep your produce fresh by allowing it to breathe.   
If you have more ideas, we'd love to hear from you! Email smm@portphillip.vic.gov.au or share with us on Instagram @southmelbournemarket. 
*for fruit and vegetables and dry goods. Plastic bags for wet produce (deli goods, meat, fish etc) can still be used at this time.