Michael Dragwidge Reflections
Published 31 January 2018
Michael will be remembered as a smart, funny, caring and much-loved part of our little village
On Wednesday 20 December, we lost one of our Market family and a dear friend to many. Michael Dragwidge, owner of Field, Barns & Co and husband of Georgie (Georgie's Harvest), passed away suddenly from an aneurysm.
Michael will be remembered as a smart, funny, caring and very important and much-loved part of our little village. He dedicated his Market life to supporting local producers which we admired greatly.
Since his passing, we have been inundated with messages from the community. Michael was well loved and hugely respected and admired by many people.
"Our family wants to thank everyone for the outpouring of love which helped us at the most painful time in our lives. Those that brought flowers, sent cards and wishes, came to the funeral and have stopped to give us a hug, we thank you from the bottom of our hearts. To quote my children: 'everywhere you look around here has happy memories and lots of love' and it's because of you all that we feel this.  There is so much love for Michael and it makes a really bad time bearable. Thank you."  - Georgie Dragwidge
We wanted to share some of the heartfelt messages of sadness, affection and reflection that we have received because they beautifully sum up his character, and his passion for, and contribution to, Market life.
"I was standing behind some people being served by Georgie in Georgies Harvest last week. Georgie was chatting as she always does with customers. The shop had been closed longer than I had expected for the Christmas break and I was eager to ask her when they were getting in the really hot chilli's so I could make some chilli oil for myself and my staff (Georgie had actually told me how to make it). The people left and it was my turn to be served. She said hi and took my things to weigh them. She knows my face but not a lot else.
"You know my husband Michael don't you?"
"Yes" I replied
"You haven't heard then."
"What?"
"Michael passed away from an aneurism (sic)."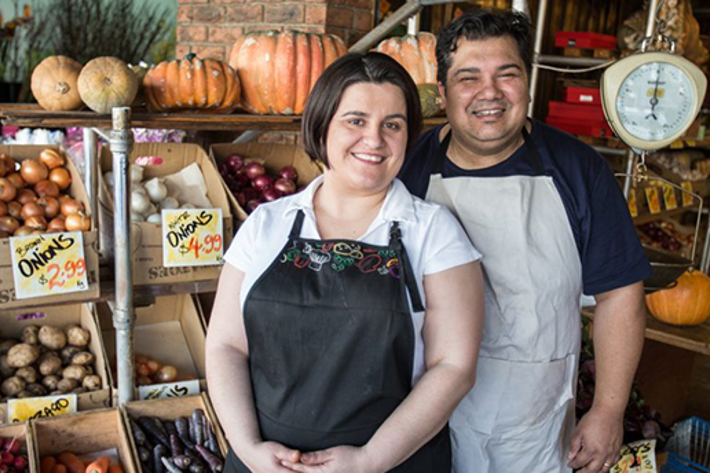 I didn't know what to say. Georgie was certainly putting on a brave face and I think she could tell I was a bit shocked. I paid her and she gave me my things, then she leant over and put one arm around me in a short but heartfelt embrace. I would be lying if I said it didn't effect me and a week later to be writing this shows that I was touched. You see the amazing thing is…I hardly knew the man. I knew they were married, had kids although couldn't say how many for sure, that he had left the corporate world for a better life. And most importantly he always had a smile on his face and would give me the time of day. I always liked him and enjoyed our short conversations.
This experience has highlighted to me how important people can be to you in your life that might have nothing more to do with you than sixty seconds once a week. They form a part of the fabric of our daily lives and it's one of the main reasons I go to the markets. Every place I go to I experience a human interaction that makes my food taste better. It's not a faceless transaction and on my Sunday morning I know I will leave feeling positive and with a smile on my face having bought my food from people I know who care about it, and that's unique. I'm sure there are hundreds of people who experience this at Georgies Harvest and would join in me in wishing her and her family the very best…we will miss him too." - Anonymous
"Peter and I are so sad about losing a person who we saw every week, who was always cheerful and kind and up for a chat. Topics ranged from footy to cricket to parks to bushfires to community to milk. Our love and prayers to Georgie and the family. Will be a big hole in our market trips 😢" - Alysia Brandenburg, facebook
"...Few came close to having a character like him and he was one of those rare breeds who wanted the best for those around him, no matter how well he knew them or where they came from. It has been awesome to see the businesses take off over the last couple of years and to see him and Georgie running their family just as beautifully was inspiring, especially these days where it feels like a solid community is a rare thing to be part of. With all the work they put into their truffle fest once a year and the little things they did each day for each customer, Mick and Georgie played a massive role in strengthening the South Melbourne Market community. My thoughts are with Georgina and the family and we as a community must give as much support as we can to these lovely people.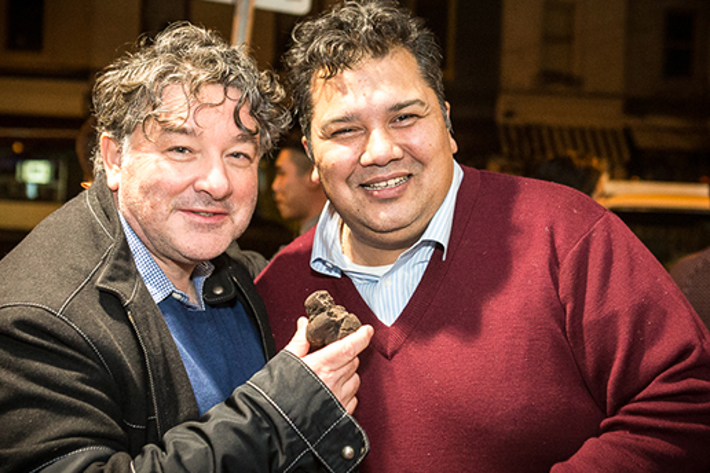 Whenever I play Mr Christmas Mr Lawrence and Rhapsody in Blue, it will be impossible not to think of you Mick, for you were the one that suggested it. I'll never forget the smile on your face when you came over with a ten dollar note after I finally learned the whole thing. RIP to an absolute legend of a bloke." - Daniel Tucceri, facebook
"An amazing person who I enjoyed many a chat with dedicated to his beautiful family and his passion of outstanding food. Michael will always be there to greet people. Love to all." - Ruth Torpey, facebook
"We are all richer for having had such a man touch our market lives. His passion, enthusiasm and love for what he did was infectious. His knowledge was so important and he always shared it so willingly. His dedication to local growers and produce was inspiring. This gentle giant's warmth and welcoming smile will be genuinely missed by myself and all the market family. Much love and strength to Georgie, the kids and all those in Michael's life." @sweetpeacuisine, instagram
"We will miss Michael and his smiles, fast wit and passion for his trade. Vale Michael. Our love and thoughts are with Georgie and their children." - Libby Jenkin, facebook
"I met Michael once and I was drawn by his immediate gentleness and generosity with his time, knowledge, and infectious passion. From trying camel milk to the excitement of wanting to cook his smoked eggs, I walked away with an ever lasting impression of a character who believed in his convictions. An ethical curator of culinary imagination. Who would have thought a trip to the market could be so inspiring? This news hits hard as the South Melbourne market community and his inner circle experience a deep loss. A loss that is reflected by our hearts profound enchantment from the touch of a special spirit. May your soul shine brighter everyday." @platform_eight, instagram
"The thoughts of both Yen and I are with Georgie and the family. Your friendliness and down to earth spirit will be missed. Our quick chats about footy, starwars and good food was part of our weekend which will never be the same. May the force be with you...RIP Michael." - Brad Craigen, facebook
I'm so sad and shocked to learn of Michael's passing. We shared a similar professional background and Michael was always ready to share a war story and offer advice and insight to me. I will greatly miss his warmth, wit and intellect in our weekly chats. Sending Georgie and the children my heartfelt condolences 💔" - Elaine Prins, facebook
"We will miss you Michael. Our boys will especially miss their mini milks flavoured with chocolate and your love. Thanks for introducing us to camel milk! South Melbourne Market has lost a big slice of its soul xxx." - Rachel Coghlan, facebook
"A truely (sic) sad day, today when we heard the news. Michael always brought a smile to our kids eyes when we talked food. An absolute treasure of a person. RIP Michael, the market has changed forever." @bricks.to.bricks, instagram
"Such sad news - Michael was a key part of my weekly market trip, not just because of what he sold but for the wonderful, friendly, passionate guy he was. I run regular market tours, and Michael or 'the butter man' was always a favourite and people would always come away raving about how he'd educated and empowered them with his knowledge and passion. Condolences and thoughts to Michael's family." - Shari Aubrey, facebook
"We were so saddened to hear of Michael's passing. He was a delightful person, always happy to discuss produce and have a chat. Our deepest condolences to Georgie and family." - Maggie Van Cooten, facebook
"Oh my, that's so sad. He was such an amazing guy and one of my favourite traders. He gave me a lot of advice and knowledge over the years and was just a great person. My condolences to Georgie and the family. Rest in peace Michael." - @aaj1412, instagram
From everyone at the Market, we miss you dearly Michael and wish love and strength to Georgie and his beautiful children.