Getting to Know Victor Persinette-Gautrez
Published 25 February 2022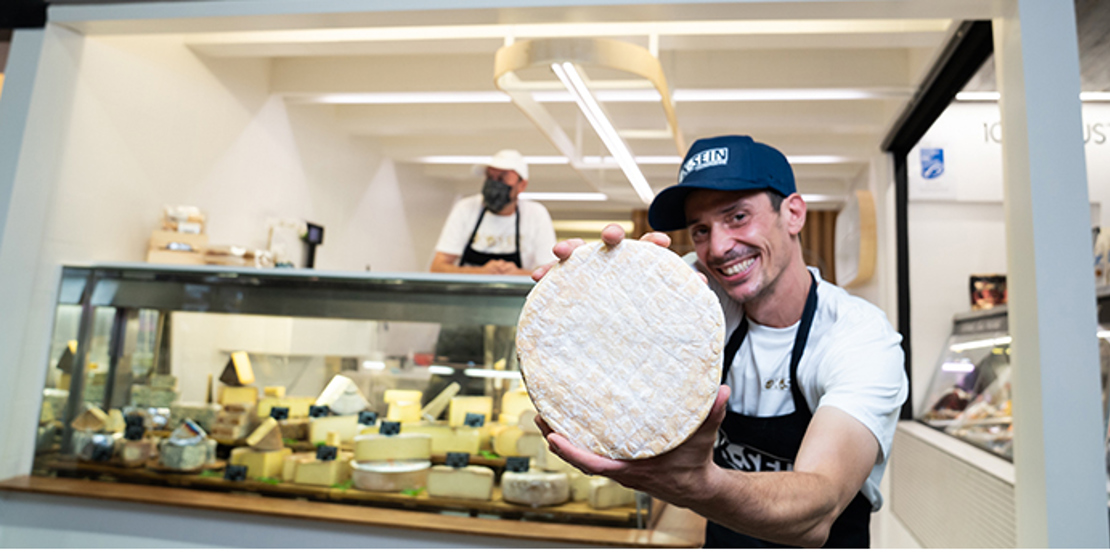 We interviewed the owner of the Market's new fromagerie, based on the traditional French cheese shop.
Victor Persinette-Gautrez grew up in Menton next to Nice, in the south of France, studying hospitality at a young age and developing a love of good food. Arriving in Australia in 2007, he continued in hospitality until deciding to specialise in cheese.
He then returned to France with his new Australian wife to learn everything about making and ageing cheese before opening his new store K-Sein Fromagerie at South Melbourne Market in the Deli Aisle in February 2022.
What does K-Sein mean and why did you choose it for the business?
K-sein comes from the word Casein, which is the milk protein, a main component in milk for cheese making. Casein take is origin from the Latin word casesus this which is translate to cheese, it became Quesos, Queijo, Kaas and cheese in their proper language. In French and Italian, the word cheese is translated into Fromage or Formaggio since the etymology is derived from the word FORMA to form the milk into solid.
I choose to break the word casein because I like to break the rules and be different. I also have a kind of broken English, so it was easy for me to butcher the word. Because I have a hyphen in my family name, I decided to add one in my business name as well!
Where have you worked and what is your background?
I first travelled around France to learn the different regions and make cheese with many cheese makers. Then we settled in Roannes (Loire department) to work for leading French cheesemonger Herve Mons, where I learned the art of Affinage (cheese ageing), the difference between artisanal cheese and commodity cheese, and had the opportunity to work in the finest market in France "les Halles de Lyon Paul Bocuse" for Fromagerie Mons under Etienne Boissy "MOF Fromager 2007".
After a few years, I returned to Australia with my wife. I took control of the Spring Street Cheese Cellar for six years where I learned to import cheese to Australia, and established a network with many local cheese producers. 
What is the aim of the business?
We like to say we are the ambassador of cheese makers. The fromagerie is based on the traditional French cheese shop, where cheese is cut to order and wrapped in traditional cheese paper. Our selection is based on how the cheese is made, not just where it is made.
We mostly stock Australian cheese, but we balance our selection with some imported cheese from Europe. We are also working on creating a maturation room in the coming year.
Why did you choose South Melbourne Market?
I met my wife while I was working in a café across the street, and I was always happy to get my groceries from the market after work.
I have also been always looking to set up a cheese shop in this market for years, but it just hasn't been the right time or the right stall location.
For me, the market is a place where good quality cheese belongs and can have a good turnover. I love the fact that I can open a 10kg wheel of cheese and sell it the same day at the peak of his life!
South Melbourne Market represents what a market should feel like: Cosy, relaxed, great food, street art and a restaurant precinct that brings the market to life in the evenings. 
What will the business offer in the future?
We will invite our cheese producers to meet our customers one Saturday each month. We will soon be offering a cheese toasty that will change every month and also plan to build our maturation room to stock all the artisan cheeses available in Australia and some refined cheese from Europe. And if we can, we would love to have a fromage bar in the market!
What are some of the cheeses you have in stock?
Moyarra reserve, a semi hard cheese made with unpasteurised sheep milk from Prom Country Cheese in the Gippsland region
Blue Stone, a blue vein cheese made with organic cow's milk from Long Paddock Cheese in Castlemain, Victoria
Bruny Island cheeses from Tasmania
Big B, a semi hard cheese made with organic goat's milk from Tongola in Copping, Tasmania
Comte Fruité produced in Sept 2020 and aged by Rivoire et Jacquemin in Jura France
Amiel and Nigthwalker, both made by Stone and Crow in Warrandyte in the Yarra Valley
The Monkerey from Butterfly Factory, small artisan from Yarragon in North Gippsland
Holy Goat of course!
Powerhouse cheese
And plenty more! Come down to say hello and try some of the selection on offer!
Find K-Sein Fromagerie in the Deli Aisle open every Wednesday, Friday, Saturday and Sunday from 8am.