Getting to know: Sophie Vatousios
Published 5 July 2020
This month we take five with Sophie Vatousios from La Sierra
Opened in March of this year, La Sierra is SO:ME Space's newest permanent stall and is home to scarves, sweaters, gloves, throws and cuddly toys made from alpaca fibre. Owner Sophie Vatousios discovered super-soft, sustainable alpaca textiles during a trip to South and Central America and established La Sierra as a way to share them and her love of the region's culture with Australians.
Sophie has been involved with SO:ME Space since 2016 when she had her first pop-up stall in the space soon after establishing La Sierra. The strong customer response and great community feeling of the Market struck a chord with Sophie and she continued to be a familiar face in SO:ME Space, returning for another pop-up and stocking her products at Theo the Label before opening her own stall.
While Sophie takes care of designing the products, sales, staffing the stall, social media and anything to do with customers, she credits her mum for helping with accounts and her partner, René, who is from Ecuador, for handling the sourcing and logistics from South America.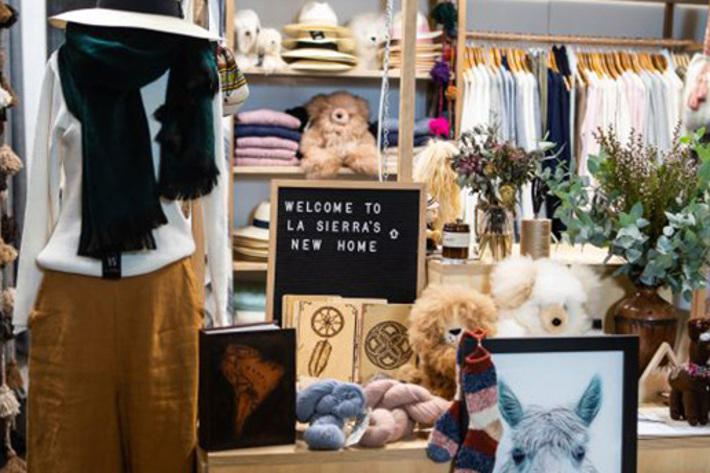 La Sierra works directly with Indigenous artisans in Ecuador and Peru to help support their communities via their traditional craft and Sophie and René regularly visit the makers – and their alpacas! – to maintain strong relationships with them as much as to oversee production and discuss new designs. Sophie says one of the brand's aims is to showcase the maker behind each product and to connect people to the place and to the face of the maker of each item they are taking home.
Passionate about sustainability and "slow" fashion, Sophie loves chatting with customers about her team of artisans and the qualities of alpaca fibre, which is snuggly and warm in winter but light and cool enough to wear in summer too.