Getting to Know Gila Chabat
Published 30 August 2021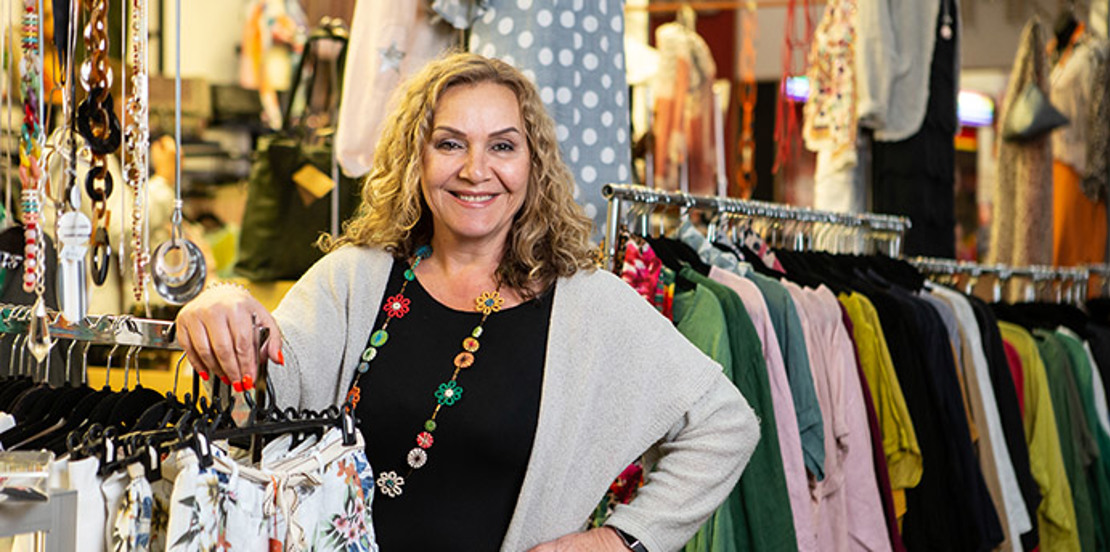 Since opening in 1995, Cavalli has gained a reputation for selling Melbourne's finest quality leather bags and designer clothing from around the world - and now the range is available to purchase online.
Gila Chabat of Cavalli Leather Goods and Designer Fashion has been trading at South Melbourne Market for over 26 years. The iconic brand is now also available to shop online with a brand new website and via South Melbourne Market Direct.
What inspired you to set up your business?
I have always loved dressing up, even when I was little. While doing a styling course in Israel, I realised my life's calling is to help others become and remain fashionable.
As a fashion stylist, I endeavour to assist people achieve their best looks. Some want their clothes to make them look younger, some wish to appear more fit, while some aim to achieve a sophisticated appearance. No matter what my clients aspire to accomplish with their apparel, I take great pleasure in helping them.
What year did you start trading at the Market and why did you choose South Melbourne Market?
My business has been located at South Melbourne Market since 1995. The area has undergone many changes since I commenced here, but open-minded and chic people have always remained its heart and soul.
For me, working with clients is much more than just business. I try to get to know each customer more than just superficially, so I can better tailor the styling to their individual needs and personality. That is why I like working with the lovely people of South Melbourne Market.
Did you have a different job before setting up your business?
Yes, before I commenced working in the fashion industry, I served in the army. There is not much fashion in that profession; nevertheless, I must say, many of my colleagues were quite fashionable.
I remember my close collaborators would often ask me for advice when buying new clothes or getting dressed for a special occasion; I guess even then I radiated a passion for styling.
Describe your products and what makes them unique?
I am proud to say that over the years we have gained a reputation for selling Melbourne's finest quality designer leather bags. Our collection includes leather handbags, travel bags, purses, clutches, satchels, messenger bags, luggage and accessories. 
We also import unique designer clothes from all over the world. Many of the products in our collection cannot be found anywhere else in Australia. If you want to look and feel special, our shop is the right place for you.
The uniqueness and exquisite design are not the only important features of the items on our shelves. We also make sure they all meet the highest standards in terms of quality and durability.
What do you like doing in your spare time?
In my leisure time, I enjoy walking for exercise, reading novels and fashion magazines, and spending time with my family. I also like staying up to date, experiencing new things, and occasionally getting out of my comfort zone. Recently I went for a hot-air balloon ride, to see how the world looks from the bird's eye view. 
What's your favourite recipe?
Israeli food is obviously very often on my plate, but I am fond of many other cuisines. For example, several Moroccan dishes are among my favourites. If you have not tried Harira soup, it is something I would definitely recommend. Just be careful not to stain your favourite designer piece of clothing!
Cavalli Leather Goods & Designer Fashion can be found on the corner of Aisle G and Centre Aisle near the Market's York Street entrance.