Bastille Day at the Market
Published 14 July 2021
Our best French fare for you to share!
Wednesday 14 July is Bastille Day and you'll find an 'abondance' of French cuisine, wine, and cheese at the Market to celebrate all things Français.
Whether it's a picnic, a platter or poultry we have so many delicacies on offer and all the ingredients you need to make something from scratch. 
Try this recipe for French Onion soup by our own Agathé Kerr with one of her freshly baked baguettes. Or for something more meaty, a Sous Vide Steak? Below you'll find a recipe for Coq au Vin from Hagen's Organic Butcher, a tasty winter stew perfect for Bastille Day, or throw together a simple Vichyssoise.
Have a wander at the Market next Wednesday and sample some of the fine French cuisine on offer. 
Croque Madame and Monsieur
Canteen (in the Food Hall) will be making this French version of a toasted sandwich with mouth watering bechamel sauce, dijon mustard, ham and gruyère cheese, the Monsieur. Add an egg and you have the 'Madame'.
Croissants
Agathé Pâtisserie are making a sensational duck confit with onion chutney on a buttery danish for the whole week to mark the occaision. More French pastry delights are available daily at Agathé from croissants (almond, choc chip & custard, pandan, plain or raspberry), madelines, cannele, flans (vanilla & pandan) and escargot. There's crusty baguettes and two large tarts made daily; chocolate & pear or spiced apple crumble.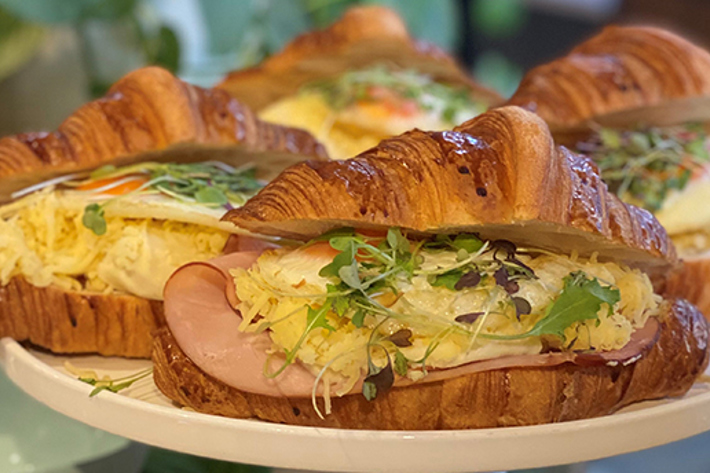 Coq au Vin 
This warming winter dish has all the flavours of France to delight your taste buds.
Hagen's Organic Butcher in the Food Hall have the best recipe for this rustic French classic and some key quality organic ingredients: Bendel whole chickens, bacon and their homemade stock. 
The rest of the ingredients are available at any one of our seven fruit and veg traders; mushrooms, shallots, thyme, carrot, garlic and parsley along with potatoes for a mash and green beans to steam as side dishes.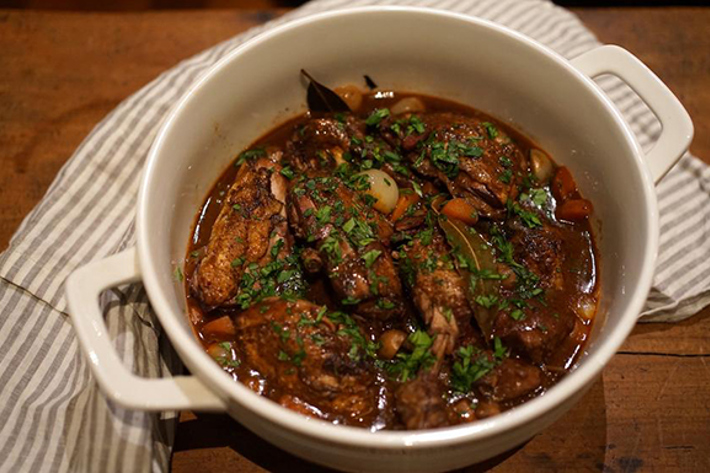 Fromage
Our deli's have an extensive range of French cheeses from Bleu, Brie, Camembert, Comte, Goats, Gruyere to Raclette.
Find them in the Deli Aisle: Emerald Hill, Theo's, Steve's and Vangelis or at Pickadeli in the Food Hall.  
We recommend the d'Aaffinois double cream Brie with Theo's Deli fig and olive artisan crackers and perhaps a scrape of quince paste.
The Deli's also stock a variety of pâté and terrines. Pâté flavours include chicken liver, duck and orange, cracked pepper and chicken. 
Terrines available are Free Range Pork & Pistachio, Chicken, Leek & Truffle, Smoked Salmon & Cream Cheese and Duck & Prune.
French Fusion
The French introduced Vietnam to the baguette, in the 1860s.
Ba Ba Rolls in the Food Hall/Coventry Street end use a short baguette to make the sensational French/Vietnamese sandwich - the Banh Mi.
Fillings include crispy pork, grilled chicken with kaffir lime and crispy tofu.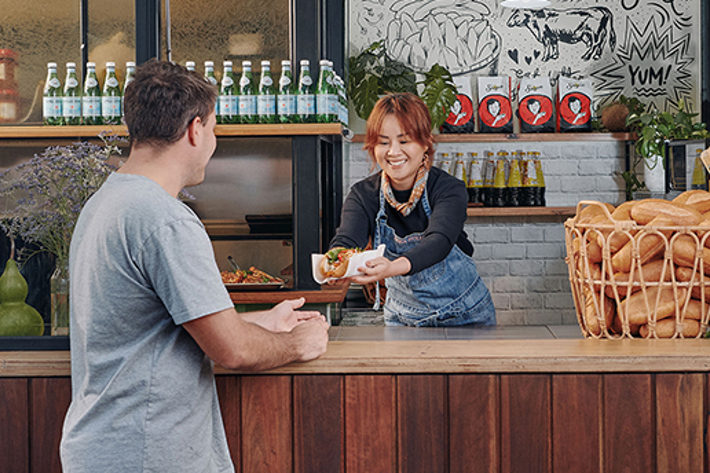 Let them eat Quiche
Mini, individual, small and family size quiches can be found at the Small Town Pie Shop in the West Aisle. There's the classic Lorraine, Prosciutto and Roast Vegetable. A great lunch box option for kids and adults cold or served warm with a side salad. 
Patisserie
Flour Patisserie in Aisle G have macaroons in a variety of delicious flavours in packs of six or individually from $4. Creme Brulee, Nutella Rocher and French Vanilla are our favourites. There's also single chocolate mousse cups.
Thé
Put the bon into bonjour every morning with Tea Drop's French Earl Grey. It's typically Gallic – deep and complex, comprising pure black tea, rosehip, pineapple pieces, mango pieces, marigold, rose petals, cold press bergamot oil, natural passion fruit, soursop and strawberry flavour. Try this recipe for an earl grey shortbread to go with it. Best enjoyed whilst wearing a beret.
Vichyssoise
A fancy name for a very simple soup. Just buy leeks, potatoes, cream, chicken stock, thyme, majoram, a bay leaf and a garnish of chives or parsley and you have a quick and easy French meal, rumoured to be a favourite of King Louis XV.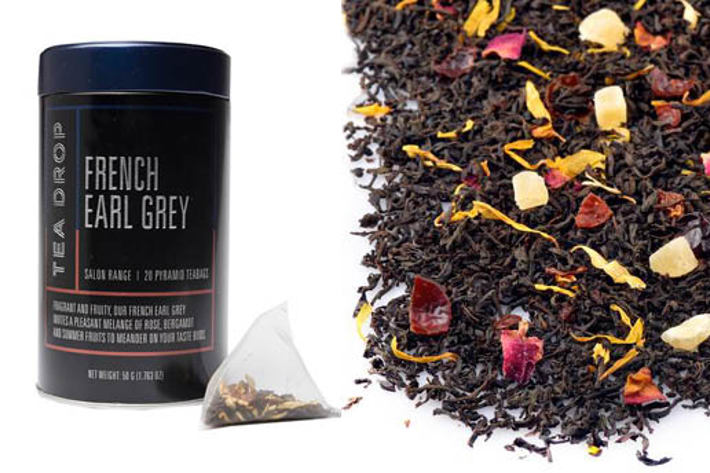 Vin
You'll find brandy and plenty of reds for your Coq au Vin in these two shops as well as a decent selection of French wines and champagne. 
Swords Select Wine & Beer  in Aisle B stock delicious French wines, we recommend the Pierre Grimonet Premier Cru Champagne, the L'Ostal 'Le Tour' Cahors (Malbec) and the Pierrick LaRoche Chablis 2019.
The Little Wine Shop in Aisle B have an extensive assortment of French wines and suggest you try the L'Passes-tout-bien a delicious burgandy, the Domaine Tariquet Sauvingnon Blanc or a bottle of Moët & Chandon.