Partnership
Australian Made
Australian Made Week
Published 28 May 2022
South Melbourne Market is a proud retail partner of Australian Made
The 2022 Australian Made Week runs from Monday 6 June to Sunday 12 June. The event is designed to encourage consumers to seek locally Australian made and grown products both during the week and into the future with the registered certification trademark logo. 
To celebrate Australian Made Week we are giving away three Aussie Made Prize Packs, with one lucky winner taking home a pair of R.M Williams Boots! Click here for details and to enter.
South Melbourne Market are a proud retail partner of Australian Made and were thrilled to feature in this year's Australian Made Week commercial featuring ambassador, Adam Liaw!
The Market has a wide range of locally made products and produce available, so why not get behind these traders this Australian Made Week.
Find Australian Made Certified products at these Market Traders:
Coconut Revolution (Aisle D) launched by David Kift, brings to market the finest quality coconut oil and Australian standard skincare formulations. Their Australian Made certified products are made with their luxurious 100% Cold Pressed Coconut Oil.
Try their fizzy bath dust in four scents: Sweet Dreams, Musk Stick,  Rainbow Sherbet and Sour Patch Lollies. Or light a Coconut and Lime Candle to delight the senses. There's also sensational Coconut Body Scrubs in Cucumber and Mint, Vanilla Caramel, Strawberry Tea and Blueberry and Vanilla.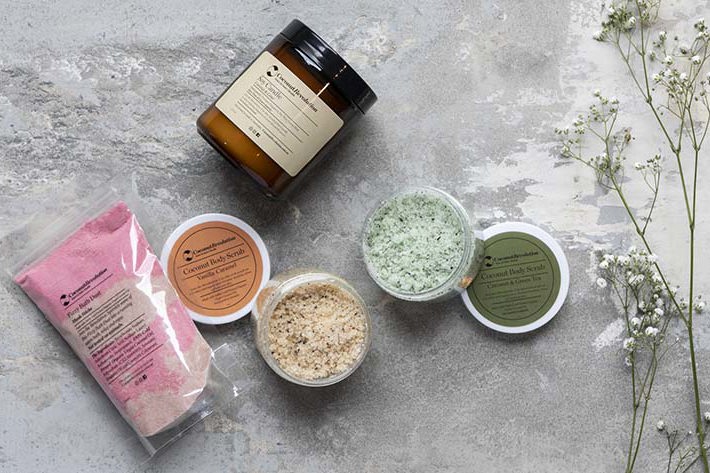 Freckly Ollie (Aisle B) is a luxury children's wear label by Diana Chen, who advocates sustainably handcrafted fashion for babies through to seven-year-olds. Each collection is consciously designed and individually handmade with natural linens, vintage cottons and sustainable surplus fabrics, in limited runs from Diana's small studio in Melbourne.
GMA Sheepskin (Aisle G) make and sell quality sheepskin products including long, short and ¾ length Ugg Boots, Kangaroo Slippers and Moccasins in a myriad of colours and sizes. Perfect for keeping your feet warm and toasty in winter, these boots are hand made locally in Barwon Heads by owners George and Maryanne Antoniadis.
Luna & Soul (SO:ME Space) create ethical yoga and activewear with integrity. Owner Raja Soltani works hard to reduce any impact on the environment, using only sustainable and ethical materials. She believes beautiful clothes and respecting the environment go hand in hand.
Luna & Soul's new Melbourne range is certified and 100% made in Australia. Every little detail is made by Australian businesses from the fabric to the care label to the pattern maker and tailoring. 
The mindfully made collection for women is designed to be worn on and off the yoga mat and is made of luxurious fair-trade organic cotton. The Melbourne Range Luna pieces include Pants, a Jumper, T-Shirt and Shirt all made of organic cotton available in black, Khaki and Marle Grey.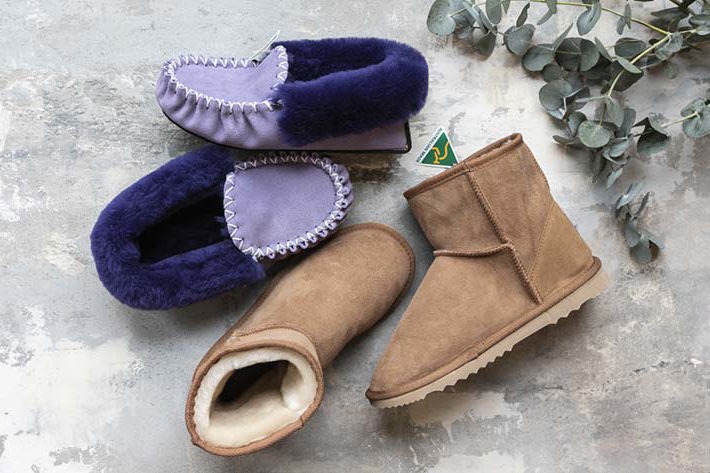 Suki McMaster (West Aisle) draws original designs using water colour or colour pencil inspired by urban and rural Australia that are then printed on homewares. She makes unique cushions made from cotton canvas, there's even a 'Lockdown' design showing children connecting with friends in different houses. Her tea towels are made of organic cotton and are 'unisex' to encourage the sharing of housework! 
There's also a range of accessories including earrings, scarfs, bags and pouches, keyrings and hairclips. Plus a large range of baby products which includes bamboo onesies and muslin swaddles.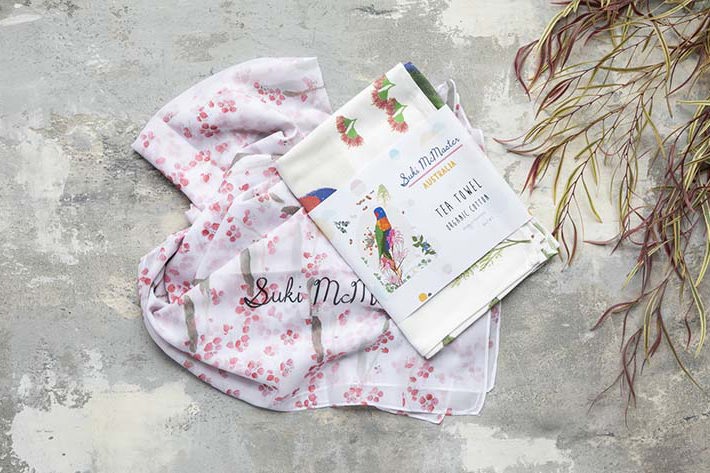 Spotty Dot (Aisle B) make eco windmills certified with Australian Made for events and giveaways. Supplied assembled using recycled and recyclable materials, printed with soy based inks in Melbourne. Great for kids parties or to promote your brand knowing they are environmentally friendly spinners! 
Clare's Bears and Wares (Aisle F) is a treasure trove of plush toys and children's clothes. Amongst the puppets and warmies are Australian Made soft plush toys that will delight the kids and make great gifts for birthday parties. You can find five cute and cuddly Australian animals in Clare's shop including a kookaburra, platypus, wombat, koala and kangaroo.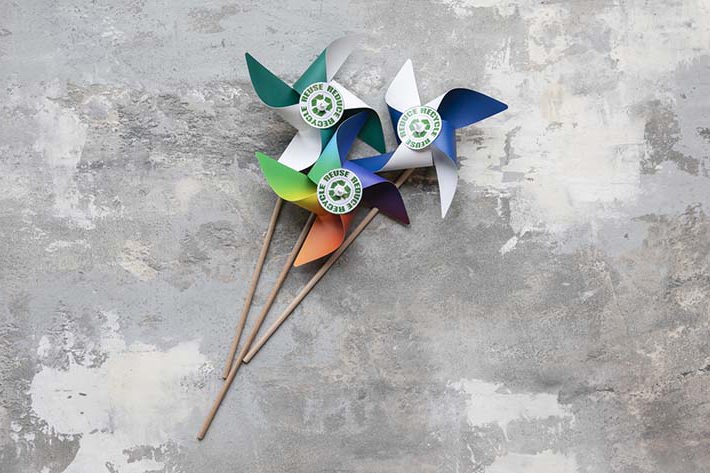 Everything Aussie (West Aisle) have locally made Murra Wolka boomerangs which are authentic to culture and support Aboriginal families. Murra Wolka Creations are a fourth generation family business who aim to make products they would be proud to take home. 
They also stock Buttonworks crafted coasters, made by a family of makers based on the Mornington Peninsula, who specialise in crafting timber puzzles, homewares and gifts. Inspired by Australia's unique flora and fauna they create distinctive and interesting keepsakes. Popular with kids and adults alike are Sunwood International kangaroo, koala and wombat plush toys.
Inside The Looking Glass (Aisle B) stock certified Australian Made duffles, backpacks, drawstring and fold-up shopping bags designed by First Nations artist Sheryl J Burchill.
From North Queensland, Sheryl uses her Kuku Yalanji culture to inform her knowledge of traditional stories and lifestyle and uses contemporary techniques of mixed media to express her ideas.
The duffle (photo right) features the artwork 'Madja' (Rainforest) from the Wurarr-wurrar (Dragonfly).
South Melbourne Market Pet Shop (Aisle G) sell Snooza Pet Beds with an iconic organic cotton cover and wool inner pet futon offers versatility and comfort for pets. Providing natural breathability and temperature regulation, warm in winter cool in summer. 
Or if you have a pet that suffers from anxiety, the Snooza Ortho Snuggler in Cashmere would be perfect. On the outer side is durable, upholstery-grade fabric and latte lined on the inside is a calming, faux-fur plush, which is luxuriously comfortable. 
Snooza Pet Products is a proud Australian owned manufacturer and supplier of premium, designer pet comfort products. They have been operating in Melbourne's Bayside suburbs for over 30 years.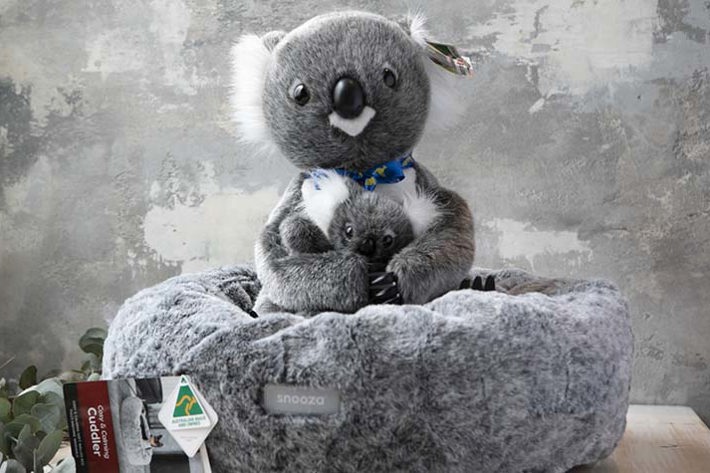 The Sock Shop (Aisle B) have a unique and diverse array of Australian Made labels including Humphrey Law Socks - made in Melbourne with the finest natural yarns; Australian wool, cotton, Peruvian-sourced alpaca and bamboo-rayon.
Their factory roof in Heathmont has 357 solar panels so every second sock is knitted using solar power! Accredited by Ethical Clothing Australia, their socks are 100% Australian Made and still produced in the same factory the company started in 1947. 
Humphrey Law Socks also supply the Australian Army, Navy and Air Force with socks. 
WB Smith & Co Kitchenware (Aisle G) sell ecological Byron Bay chopping boards hand crafted Camphor laurel chopping boards, sourced sustainably from the hinterland of Byron Bay.
Each piece of wood is selected for its grain quality and handcrafted into a unique, long-lasting, professional quality chopping board. 
There's also the amazing Solid Teknics saucepan, a seamless one-piece pan, wrought from a single sheet of iron made in Australia. Free from toxins, heavy metals, synthetic coatings, and durable enough to last for centuries.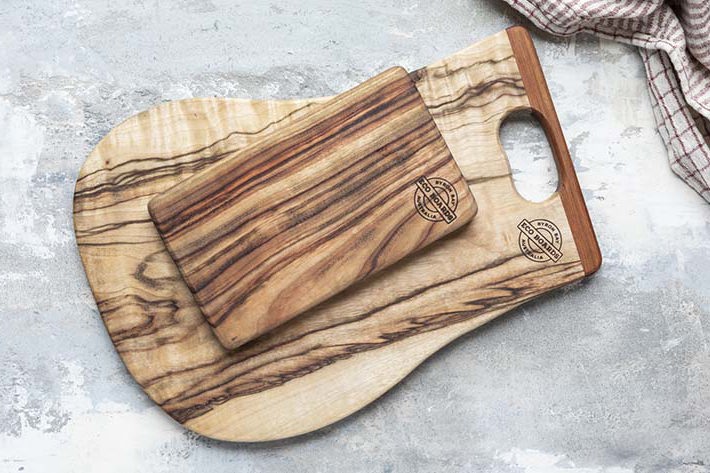 Yodgee Footwear (Aisle B) stock classic RM Williams boots, who are celebrating their 90 year anniversary in 2022 and are one of the best-known and loved footwear brands in the world.
Originally built for the men and women of the rugged, unforgiving Australian outback, their iconic one-piece-leather boots have gone on to grace the feet of millions of people, including some of the most famous on the planet.
The upper of the boots are still constructed using a single piece of leather, a method that enhances durability and creates a timeless, clean look and continue to be made in the factory in Adelaide.