Community
Events
Mussel Festival
Mussel and Jazz Festival Tribute Weekend
Published 25 February 2022
This year we are paying tribute to our much-loved Mussel Festival
The Port Phillip Mussel and Jazz Festival is an annual event with a heart full of jazz and soul. Every year, months of planning go in to organising vendors, artists, performers and contractors to make sure we deliver a truly memorable experience for all involved. Despite things looking brighter in 2022, the Omicron variant brought with it great uncertainty, making it impossible to predict what March would bring. 
This year, the Market will pay tribute to the festival with our own twist on this much-loved community event. With a fantastic line-up of local jazz and soul musicians across the weekend, roving entertainment and live cooking demonstrations, a trip to South Melbourne Market will be well worth it. 
Seafood Specials
South Melbourne Market is renown for it's seafood! Look out for our top picks below which are all available to dine-in or takeaway:
Bambu -  soft shell crab gao bao / lobster tacos
Claypots Evening Star - Signature mussels with chilli, ginger and sambal
Little Hof - German fish roll with smoked fish, herb mayo and pickles in a soft bread roll.
Simply Spanish – award winning mussel, calamari, chorizo and chicken paella
Aptus Seafood Grill – prawn sliders / fish and chips (plus oyster specials)
South Melbourne Seafood Oyster Bar – Maine lobster roll
Plus head to Marko for 2 for 1 cocktails all weekend!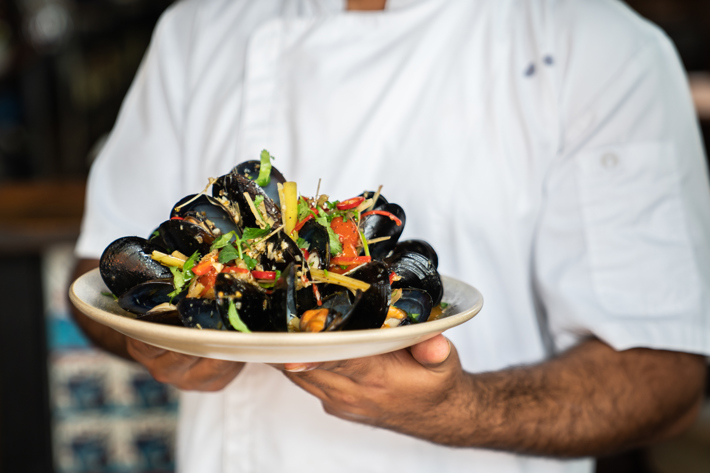 Live Cooking Demonstrations
Tim Hollands will be cooking up a storm with free live cooking demonstrations on both Saturday and Sunday. 
Tim Hollands is a well-known chef, food consultant, instructor, entertainer and educator that is passionate about Australian produce. He'll be sharing his tricks of the trade for creating some delicious and easy seafood dishes, plus sharing his recipes on the day!
Free Live Music!
Catch an incredible line-up of local jazz and soul music from 12pm - 6pm each day, curated by Melbourne Ska Orchestra's Wally Maloney. 
Django Rhythm - Parisian romantic jazz of the 30s and 40s
Gatsby Swing - a jazz quartet specialising in 1920s -30s swing 
Michelle Nicolle + Paul Williamson
The Icons
The Jazz Jokers - a favourite amongst Market traders and shoppers 
The Treblettes - a sassy trio singing 40's, 50's and 60's songs
Free Family Fun
Face Painting for the kids, whether it's finding Nemo or the Little Mermaid, they can get in on the fishy themed festival fun!
PO PO MO CO's Punk Emus are the cheekiest birds you'll meet. With attitude and sass they will peck their way around the Market, making mischief wherever they go.
Look out for Giant Seagulls rummaging in bags and pockets, stealing food from plates and picnic baskets, causing chaos and squabbling amongst themselves. 
Competition
WIN one of three $500 vouchers to redeem on sensational fresh seafood at South Melbourne Market!
Thanks to our seafood traders: Aptus, South Melbourne Seafoods and The Fish Shoppe.
Competition closes at 11.59 pm AEST, 6 April 2022.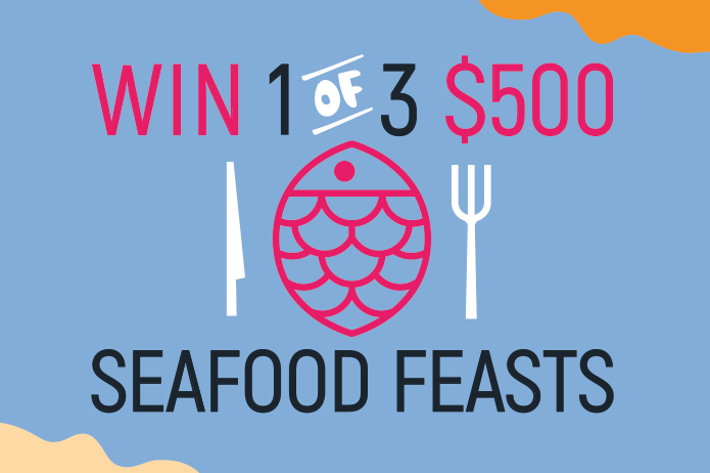 Shuck Don't Chuck 
You can help us by putting your shells into the correct bins and making sure no other plastic or other contaminants go into these bins.
Oyster, mussel and scallop shells are recycled at the Market in a partnership with The Nature Conservancy. Shells are collected from the Market, cured and then used in a reef restoration project aimed at rebuilding the precious ecosystems in Port Phillip Bay.
Read more about the project HERE.