Getting to know: Ashok Dias
Published 30 June 2020
As you might expect, Tea Drop's Ashok Dias loves a good cuppa.
"This might sound cheesy, but in a few words if you ask me to describe what I do when I am not working? I can say drinking tea, a lot of unique tea," he laughs.
While Melbourne is famous for its coffee, Ashok took another path, establishing his business in 2004 to supply tea to eateries and hotels and opening Tea Drop's "brew bar" at the Market in 2014.
"Tea has always been a second thought in most of the cafes and restaurants due to the huge demand and popularity of coffee," he explains. "Therefore we first wanted to create a space/hub where we dedicated 100% of our attention to tea drinkers and people interested in learning about tea; somewhere customers can come and learn about different types of tea, experiment with teas that may suit unique likings or taste profiles they are looking for, sampling the tea or enjoying a cup of tea before deciding to buy tea for home."
Regular customers drop in for the large variety of fresh, top quality tea, whether in bag form or looseleaf (container refills are available), along with tasty treats such as vanilla slices and chunky choc peanut butter cookies.
"The core focus within the store is to pack fresh tea per order," Ashok says, adding that this was the reason for opening his business at South Melbourne Market."
Tea Drop has always treated tea as fresh produce and we wanted to work in an environment where consumers can have the same experience as buying fruit and vegetables in a market. Look at the tea, smell the tea, sample the tea and buy enough tea for the week, the same as buying your weekly groceries."
The vast range at Tea Drop includes customer favourite The South Melbourne Breakfast blend which was specially developed for the Market stall and incorporates different fruit flavours that can be found around the Market. There are also rare leaves such as the 20-year Pu-erh tea or 10-year aged white tea, and unique items such as the chai latte, a chai infusion that is brewed locally and bottled with no preservatives.

"It contains only freshly brewed tea and spices and is infused with treacle harvested from the kithul tree," Ashok explains. "This treacle has a unique woody toasted flavour profile and is similar to maple syrup; kithul treacle is also low in GI."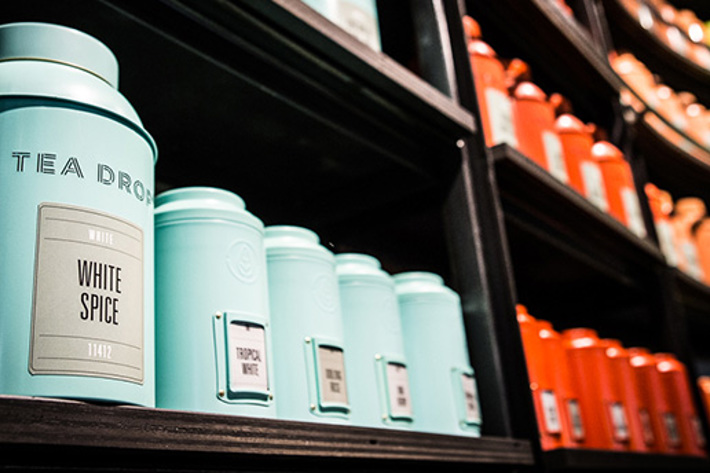 It is this kind of specialist knowledge that brings customers back to Tea Drop over and over again - and keeps Ashok busy.
"I can't remember the last time I took an official holiday as I am always working," he says, adding that it doesn't bother him. "As my job is really interesting it's become more of my daily routine. Learning about new tea, creating new tea, tasting new tea and training my staff about new tea: this takes all my time."
If you love Tea Drop tea, check out these recipes kindly provided by Ashok and his team that incorporate their products: