The Market has a great range of sustainable products available to purchase from our Information Desk located in Centre Aisle.
Hessian Jute Bag $8
Forgot to bring a bag to the Market? These sturdy hessian bags, are large, strong and have handles that are easy on the shoulders. 
Reusable Produce Bags (pouch of five) $15 (pictured)
Instead of using plastic bags to pack your salad greens, fruit or veggies, try these reusable mesh bags that are made from recycled plastic bottles. They are long lasting and the mesh allows produce to breathe, giving it a longer life span - a win-win! 
Market Tea Towel $5
Great as a gift, these cotton tea towels have a lovely design with Market icons.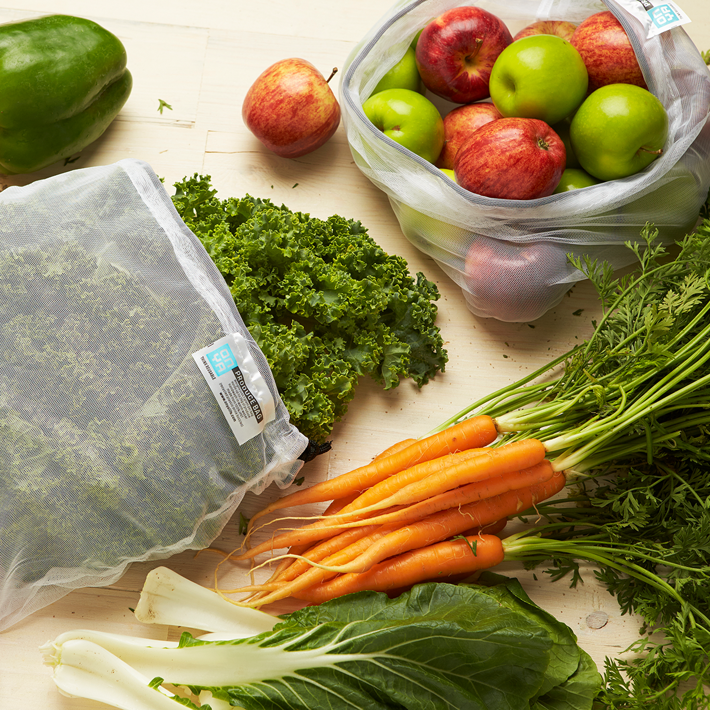 Market Cap $10
A blue cap with the Market logo perfect for keeping the sun off your face and scalp!
Market Keep Cup:
Designed for drinking pleasure on the go, easy to care for and made to last. Lovely to drink from with the lid on or off, it's lightweight, easy to carry and fits comfortably in your hand and cup holders. 
Glass Small $23, Original Small $14 / Large $16.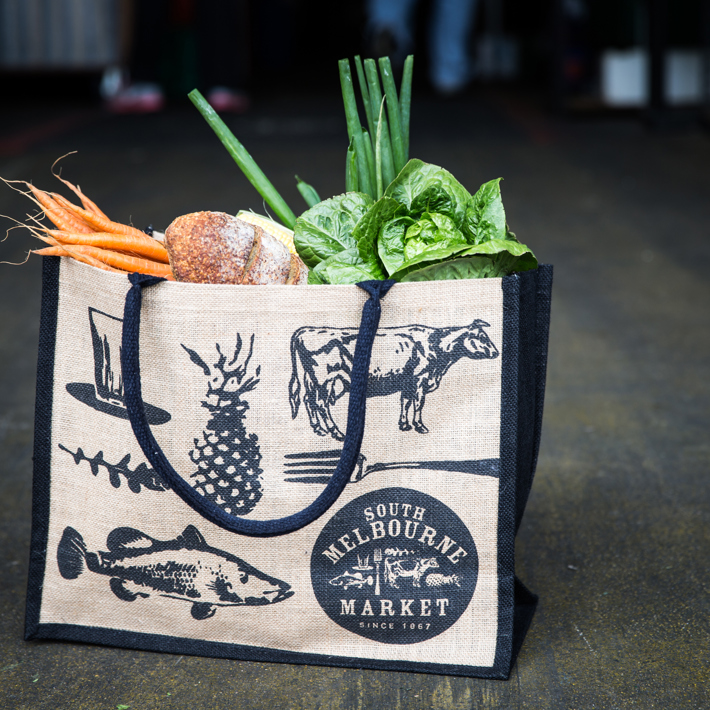 Garden Products:
SoilFood (2kg bag) $5
Everyday, Market food waste is collected and funnelled into our onsite Gaia machine. This whizz-bang machine heats it, shreds it and activates a very fast fermentation and dehydration process, turning it into a dry product called SoilFood in just ten hours. SoilFood is rich in concentrated nutrients and makes an excellent high-nitrogen, slow release plant fertiliser.
Market Magic (4L bucket) $15
Market Magic is a specially formulated organic garden fertiliser, produced by earth worms fed on South Melbourne Market green waste. It is made up of approximately 25% worm castings and a 75% mushroom compost organic blend. It can be used as a soil conditioner or water-saving mulch.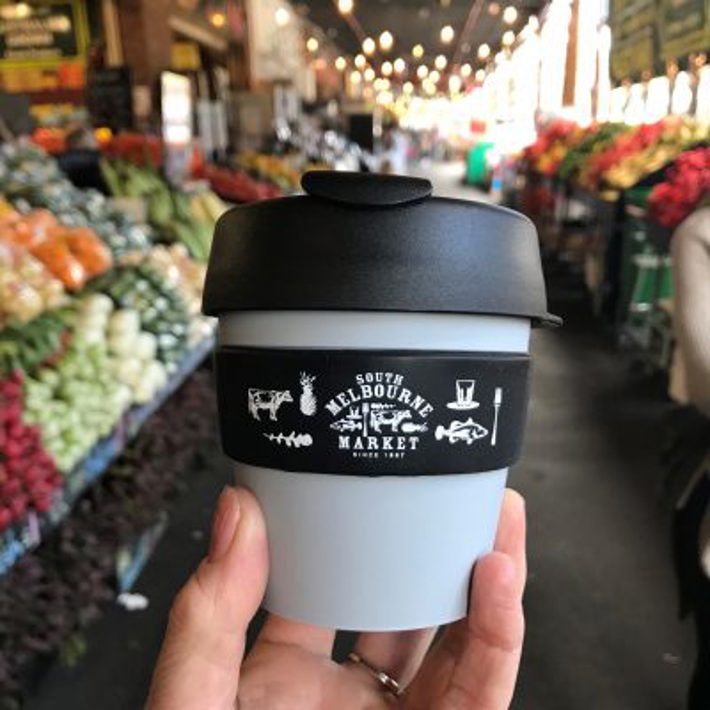 Market Magic Plus (1L bucket) $15
Market Magic Plus is made of worm castings produced by earth worms fed on South Melbourne Market green waste.
This nutrient-rich vermicompost contains minerals and a highly active biological mixture of bacteria and enzymes that are beneficial to plant growth.
Organic Worm Juice (1L bottle) $12
Organic worm juice is nutrient and microbe rich liquid produced by worms. This potent, biologically active soil and plant conditioner can be poured around your plants as soil drench or sprayed on the leaves as a foliar feed.
Please note:
Purchases can be made at the Market Office located in Centre Aisle between 8am - 3.30pm on Market days (4.30pm on Fridays). 
Cash or card sales welcomed. There is a small surcharge for paying with card when purchasing these items:

Visa/Mastercard 1.16%
Amex 0.65%
Eftpos/Debit Cards 0.59%
If you are interested in bulk purchasing any of these items, please get in touch at smm@portphillip.vic.gov.au.