Q&A With Philipp Hockenberger of Little Hof
Published 21 January 2021
The newest addition to the Cecil Street restaurant precinct
How did Little Hof come about?
Little Hof is the newest concept from the group of friends behind Hofbrauhaus (Melbourne CBD) and The Hof Downtown (Docklands). While the idea of bringing German street food to Melbourne has been on the table for quite a while, it took the harsh COVID-19 Melbourne lockdowns to finally get the ball rolling. The team finally had time to sit down and refine a menu, plan the venue and bring the idea to life.
How would you describe the Little Hof menu? Is it authentic German food, or altered to suit the Australian palate?
The food is as German as it gets – we are not here to pretend we are anything or anyone else. We love what we do and we want to share delicious German food with everyone. The idea behind Little Hof is to make much loved German food (especially our pork knuckle) more accessible for our friends out there in a street food format.
What is your signature dish?
The pork knuckle is probably the most outstanding dish from its optical appearance as well as the unique flavour. Our famous pork knuckle has been quite the special occasion dish due to its size of 1.5kg, however, Little Hof is making this more accessible in form of a handy street food version. A much smaller knuckle is available as a whole version (400-500 grams) and as a half version (200-250 grams). It's also gluten-free!
I also believe that our newly introduced Currywurst could become our signature dish. It's a great and simple street food dish and maybe the most popular one in Germany. A Bratwurst topped with a tomato-based curry sauce. But don't think Asian curry- it's German and therefore completely different and at least as good!
What was involved in developing the menu for Little Hof?
While the idea for Little Hof had been around a while, the Melbourne lockdown finally gave us the time to work on the concept's menu. It was a team effort, and we spent a lot of time sitting in front of the pork knuckle trying to figure out how to offer a street food version!
We spent a lot of time finding the right bun for our sausages and hours in the kitchen trying to develop the best cooking process for our sausages. Even though we have been serving great sausages in our venues for decades, a street food outlet is very different from a venue.
Space is minimal and so is the team able to work in there. We want to be able to serve our products at a fairly quick speed without compromising the quality of our product. And I think we've achieved that pretty good.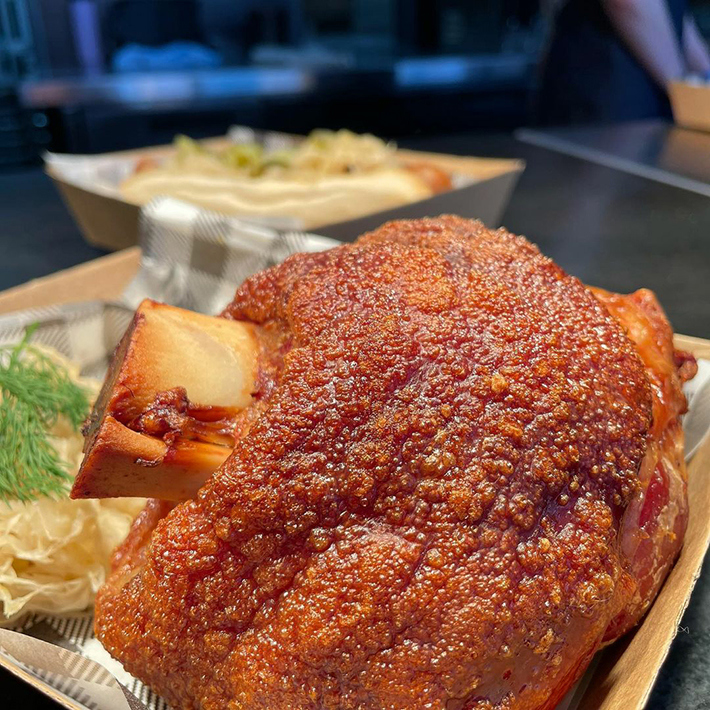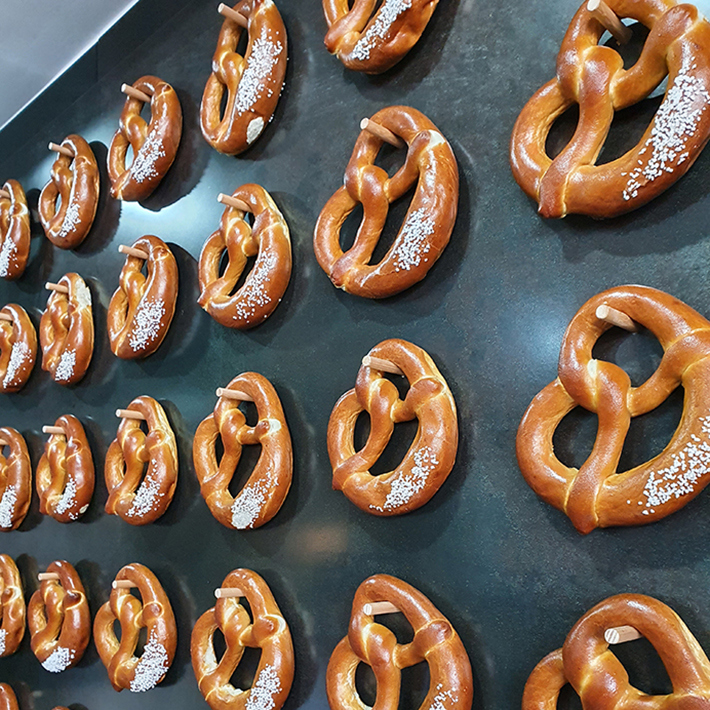 What do you think makes for an unforgettable dish?
I believe that food is here to do more than just provide nutrition.
In my opinion, an unforgettable food experience comes from either two things: the dish either brings back memories and emotions or it completely surprises you in terms of flavours, texture etcetera.
There is nothing better than eating that great dish you had when you were overseas travelling or the dish your grandma always cooked on a Sunday when you were growing up.
And that's what we want to achieve. We want to either surprise people with our food because they've never had German food before or maybe thought German food isn't that sexy.
Or, we want to bring back that memory from your last Europe trip. Either with our sausages, pork knuckle or the currywurst and Bier you had at 2 am in Berlin after a big night out!
Tell us about the new space you have created and why you chose the South Melbourne Market
We all love South Melbourne Market and a lot of us spend a lot of time here as visitors, so we'd always had our eye on it.
It's a great place which offers a community feeling combined with an urban look and most importantly, a great culinary landscape. When we heard about the Cecil Street opportunity, we didn't hesitate to apply and are super proud that we were selected to be a new member of this great community.
Andrew and Matthew Kent are responsible for the overall design of the space. They made their name in Melbourne's culinary landscape through multiple kitchen and bar fit-outs and designs including Estelle, Matilda, St Ali, Sorrento Baths and many others. Even though the shop is quite tiny (it's a hole in the wall!) it has quite a lot to offer. For example, the brick wall which holds the Little Hof logo is built with old bricks from The Hof Downtown in order to give the little brother something from the older sibling
. One wall in the venue is dedicated purely to tell the story of German street food, displaying pictures from as far back as a sausage vendor from 1908 in Berlin, a bretzel saleswomen at Oktoberfest in 1920 and the location where the currywurst was invented.
Lastly, tell us about the bier!
Little Hof will soon have a selection of bier on offer, making the perfect accompaniment to our street food menu and this Melbourne summer. We'll be importing the majority of our range, working closely with breweries in both Bavaria and Austria.
Our philosophy is to support only small, family-owned breweries in order to protect the industry from the take over of stakeholder-driven global companies. We'll offer a selection of great Bavarian bier and one or two Aussie beers, however, in order to make it in our fridge, the Aussie brews need to tick a lot of rather Bavarian boxes!