International Women's Day
Published 8 March 2022
We're celebrating some of our amazing traders today!
International Women's Day (March 8) is a global day celebrating the social, economic, cultural, and political achievements of women as well as being a call to action for accelerating women's equality.
We are proud of the many female traders at the Market and asked just a few of our trail blazers to share why they love what they do.
Adrienne Oxenham - Babes Fresh Farm Produce
Born and bred in the City of Port Phillip, her father and brother had a butcher shop in the market in the 80's. At the age of 18 she was approached by market management to start an egg stall and started with just two trestle tables and a few boxes of eggs.
34 years later Babe's Farm Fresh Produce has evolved into a beautiful family friendly produce shop that supports only Victorian farmers and also stocks honey, homemade jams and preserves, milk and cheese, cold pressed olive oils and dressing.
There is no middleman, Adrienne has a personal relationship with every farmer that she and her customer's support. 
Visit Babe's Farm Fresh Produce in West Aisle or shop online.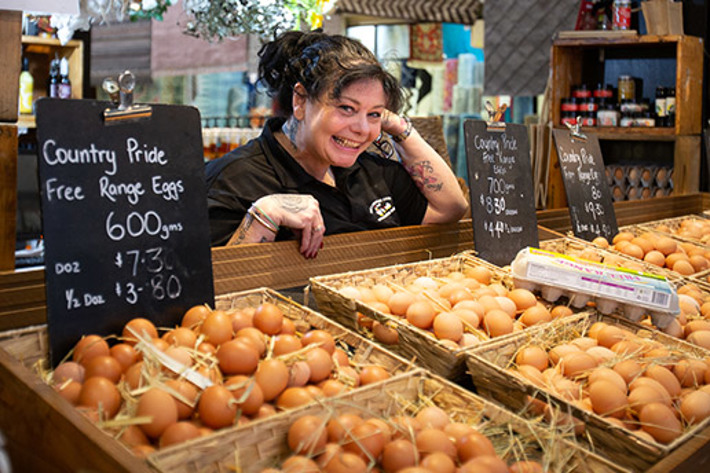 Gila Chabat - Cavalli Leather Goods & Fashion
As a fashion stylist, Gila caters to women aged 25 and over, endeavouring to assist them achieve their best looks.
She accomplishes this by getting to know each customer, then she can tailor her styling to their individual needs and personality.
Gila takes great pleasure in helping clients and thinks of it as much more than business, some customers have even become friends. She does what she loves, and it makes her happy.
Visit Cavalli Leather Goods and Designer Fashion in Centre Aisle or shop online.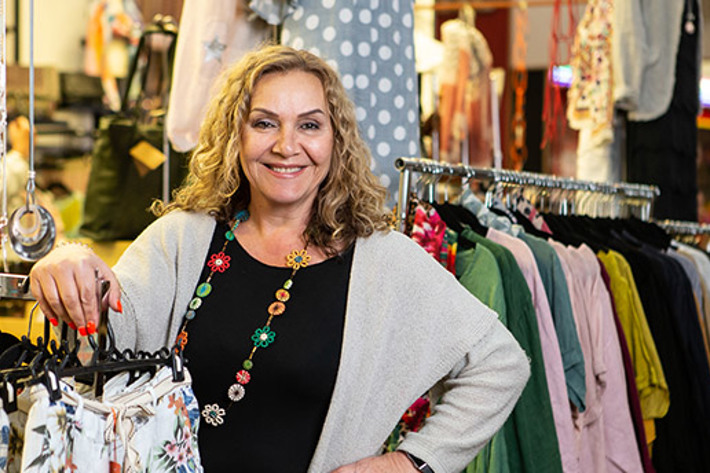 Maria Capuano- Pieno di Grazia 
Maria's market journey started four years ago as a tribute and legacy to her irresistible Nonna Grazia, hence the name Pieno Di Grazia means "Full of Grace". 
"We celebrate her good life, through her recipes, memories, traditions, and a lifetime of pleasures with simple luxuries," Maria says.
The culinary experience has always played an important role in Maria's life. It was the time that friends and family all came together to laugh, cry, listen and care for each other. 
Maria loves what she does because she's consistently building relationships within her community. Her commitment and passion come through her traditions and unforgettable dialogue from generation to generation. It's the Grazia Way!!!
Visit Pieno Di Grazia in the food hall or order online.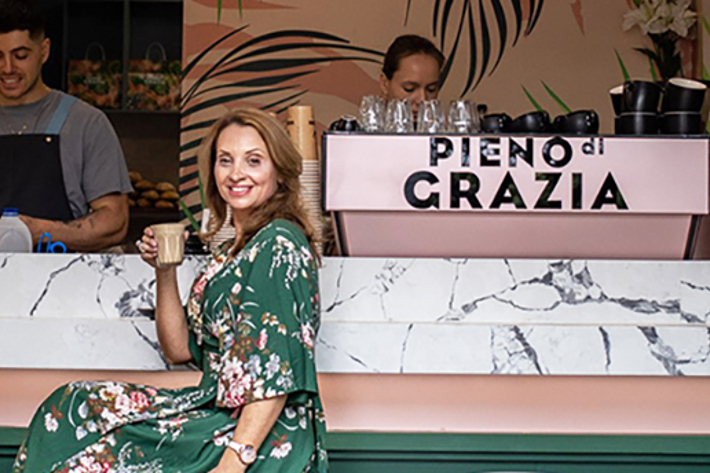 Zarifa Hameed - Zarifa's Collection
Using her youngest daughter's pram to transport stock was how Zarifa started her business selling t-shirts on a table at the market. She then moved onto selling silk shirts and expanding the variety of styles and fabrics until her collection grew to where it is today.
Each item tells a story, with sustainability in mind as well as supporting local businesses with products made in Melbourne and Australia.
Zarifa is passionate about making others feel good about themselves and expressing that through fashion no matter what the individual's style is.
She takes pride in every little element from coat hangers to sourcing and buying the products, to the service and returning customers, building relationships. 
Visit Zarifa's Collection in Aisle D or shop online.