Georgie's Harvest Buys 300kg of Garlic to Support Local Farmer
Published 17 January 2020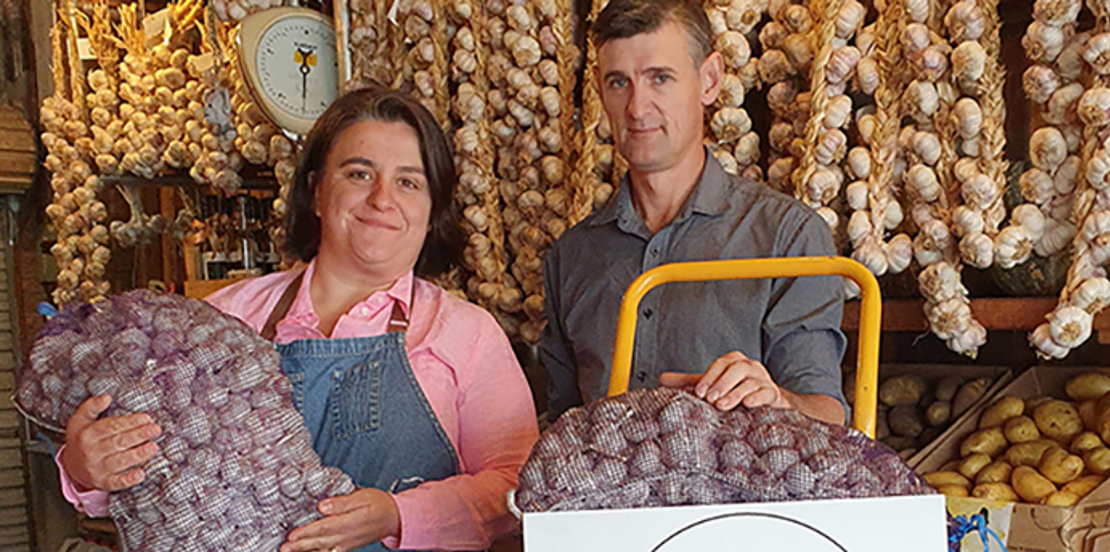 Come down and show your support by buying East Gippsland Garlic
Justin Dykes of East Gippsland Garlic has managed to survive the bushfires so far, but many of the neighbouring properties in Nicholson have not been so lucky.
While the area is still a bushfire emergency zone, Justin has been unable to sell his garlic, so put a message out to the Australian Garlic Industry Association for help to sell a six-by-four metre trailer-load of Monaro Purple Garlic.
Justin had stored the 300kg of cured garlic under his house, which was not affected by nearby fires. But with most local markets shut down and tourists told to stay away temporarily, the farmer found he had no way to sell his produce – a problem many producers and farmers are now facing.
"I rang him up and said, 'I'll take all of it,'" said Georgie Dragwidge, owner of Georgie's Harvest.
Georgie paid East Gippsland Garlic their usual retail price of $30 a kilo for the hand-planted, organic garlic, and is now selling them for the same price at her stall.
Across the country, as fire-affected areas are declared safe, tourism is crucial to recovery. Until then, Georgie suggests paying attention to where your produce is coming from and supporting regional producers however you can, whether that's by booking a holiday down the track, buying Aussie produce direct online or buying from onsellers in metropolitan areas.
"This is one small business helping another small business, and in the Market that's what we do," says Georgie. "It's lots of small businesses helping each other, from the florist to the butcher."
"While the fires are still burning in East Gippsland and all around, people can't take their esky to these small towns that need our help. What people can do is come to the South Melbourne Market and shop with small business' like mine, the butchers, fruit & veg shops, the florists. We all deal directly with the farmers and these towns all year round. In the good times and the bad. We always want to make a difference and it is why it is so important for people to shop local."
Many South Melbourne Market traders are fundraising as part of the bushfire appeal, with some also donating proceeds from sales.